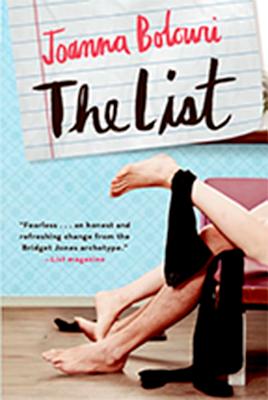 The List (Paperback)
Quercus, 9781623659943
Publication Date: January 6, 2015
Other Editions of This Title:
Hardcover (1/6/2015)
Paperback (1/6/2015)
* Individual store prices may vary.
Description
One year. One Single Woman. Ten Very Naughty Challenges
"I would give this book 6 stars if I could!" --5-Star reviewer
Phoebe Henderson may be single but she sure doesn't feel fabulous. It's been a year since she found her boyfriend Alex in bed with another woman, and multiple cases of wine and extensive relationship analysis with best friend Lucy have done nothing to help.
Faced with a new year but no new love, Phoebe concocts a different kind of resolution. The List: ten things she's always wanted to do in bed but has never had the chance (or the courage!) to try.
A bucket list for between the sheets. One year of pleasure, no strings attached. Simple, right?Factor in meddlesome colleagues, friends with benefits, getting frisky al fresco and maybe, possibly, true love and Phoebe's got her work cut out for her.
About the Author
Joanna Bolouri worked in sales before she began writing professionally at the age of thirty. After winning a BBC comedy script competition she worked and wrote with actors, in stand-up comedy, and as a screenwriter. She's contributes to newspapers and news sites such as The Skinny, the Scottish Sun, the Huffington Post, and Heckler Spray. She lives in Glasgow with her daughter. The List is her first novel.
Praise For The List…
"A very naughty but nice read that will have you gasping at Phoebe's antics one minute and laughing out loud the next."—
Abby Clements, author of Vivien's Heavenly Ice Cream Shop
"Sexy, smart and scandalous, The List charts one woman's odyssey through her bedroom blind-spots--and what a ride it is! Funny and frisky, I'd recommend to anyone with a taste for adventure."—
Victoria Fox, author of Temptation Island
"Highly entertaining, heart-warming, with a good dose of smut. A sexy read that will have you wondering about your own list."—
Anna Bell, author of Don't Tell the Groom
"Raunchy and hilarious . . . you'll be laughing all the way to the beach!"—
The Scottish Sun
"An absolutely hysterical main character that you can relate to and page after page of pant-wettingly hilarious scenes . . . Without a doubt this is the best and funniest book I have read so far this year. I can't wait to see what Joanna Bolouri does next!"—
Lisa Gray
,
The Daily Record
"Very very naughty and lots of fun - it's a cracker of a debut."—
The Sun
"This is a fast-paced and very funny read, told in diary format as Phoebe spends a year seeking pleasure and ends up finding out more about herself than she ever expected to."—
Rebecca Vnuk
,
Booklist
"I think by far this is the funniest book I have ever read . . . an awesome mixture of chick-lit and erotica, but in such a hilarious and unique way . . . Joanna is a brilliant author, her writing is hilarious, vivid, genuine and just such a pleasure to read"—
Sky's Book Corner
"
The List
is an entertaining tale of liberation and self discovery. Kudos to Phoebe and crew for keeping it real, funny, and enjoyable from start to finish."—
Miss Ivy's Book Nook
"entertaining with a healthy dose of smut . . . A smart change from your typical chick lit . . . The ending will have you cheering for Phoebe."
—
Not Your Typical Mommy
"easily one of the best women's fiction books that I've read."—
I'm With Geek
"
The List
is a book every woman should read."—
A Soccer Mom's Blog
"A totally new and fresh look at sex . . . This book was funny, very touching and so realistic that it sometimes hurt . . . a delicious read and I just want to start reading it all over again."—
On My Bookshelf
or
Not Currently Available for Direct Purchase