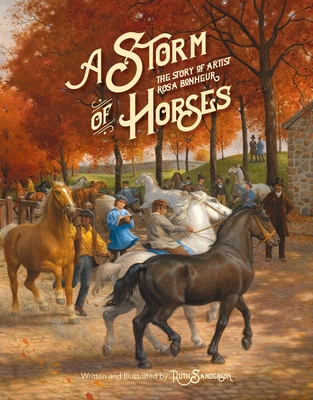 A Storm of Horses
Hardcover

* Individual store prices may vary.
Description
An inspiring picture book about Rosa Bonheur, the most famous female painter of her century, published to coincide with the 200th anniversary of the artist's birth

In a stunning ode to underrepresented women everywhere, award-winning illustrator Ruth Sanderson tells the untold story of French artist Rosa Bonheur in this picture book biography.

Rosa Bonheur was born in 1822 in France at a time when young women had limited options beyond being a wife and mother. But Rosa wouldn't stand for this. She wore pants, rode horses astride, and often broke society's rules. She wanted to be a famous painter just like her father. Female artists at the time were encouraged to paint domestic scenes of children and family, but Rosa was determined to capture the unbridled wild beauty of horses.

Her masterpiece The Horse Fair was eight feet high and sixteen feet wide. Rosa went on to become the most celebrated artist of her time with paintings purchased by art collectors, museums, and galleries around the world. With the decline in popularity of realistic painting, Rosa's trailblazing story was almost forgotten.

Revel at the bravery and fortitude of young Rosa as you take in Ruth Sanderson's immaculate rendition of her life and artistry.
Praise For A Storm of Horses…
"An inspiring glimpse into the talent and drive of a woman who marched to the beat of a different drummer … A profile of groundbreaking 19th-century French animalier Rosa Bonheur. Sanderson, herself a realistic painter whose initial artistic inspiration was horses, crafts an engaging biography whose dramatic oil compositions and engrossing narrative will pull in other equine aficionados … the illustrations depict the painting studies, red ochre outlines and layering, and Bonheur on a ladder adding personality to each horse."
— Kirkus Reviews

"With a clearly written narrative and beautifully composed oil paintings, this picture book offers a memorable introduction to Rosa Bonheur."
— Booklist, Starred Review

"Sanderson illuminates the life of 19th-century French animalière Marie-Rosalie 'Rosa' Bonheur (1822–1899) in this feminist picture book, following Bonheur's lifelong love of portraying horses … textured oil illustrations envisage Bonheur's story of determination in a realistic style richly evocative of the subject's own."
— Publishers Weekly

2023 Rise Feminist Literature Honoree

2023 Rainbow Book List Honoree
Crocodile Books, 9781623718480, 40pp.
Publication Date: March 15, 2022
About the Author
Ruth Sanderson is the renowned illustrator and author of over 80 books for children. Her fairy tale retellings have been widely praised and much loved by children everywhere. Her original fairy tale, The Enchanted Wood, won both the Young Hoosier Award and the Bank Street College Award. The Texas Bluebonnet Award was given to her retelling of The Golden Mare, the Firebird, and the Magic Ring. Her beautiful and ornate version of the classic fable Goldilocks is the latest addition to the collection.