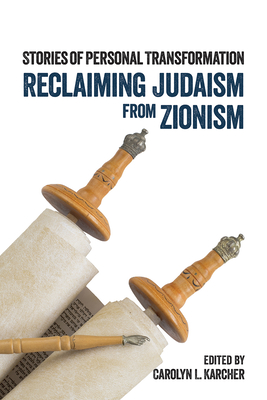 Reclaiming Judaism from Zionism
Stories of Personal Transformation
Paperback

* Individual store prices may vary.
Description
Today Jews face a choice. We can be loyal to the ethical imperatives at the heart of Judaism—love the stranger, pursue justice, and repair the world. Or we can give our unconditional support to the state of Israel. It is a choice between Judaism as a religion and the nationalist ideology of Zionism, which is usurping that religion. In this powerful collection of personal narratives, thirty-nine Jews of diverse backgrounds tell a wide range of stories about the roads they have traveled from a Zionist world view to activism in solidarity with Palestinians and Israelis striving to build an inclusive society founded on justice, equality, and peaceful coexistence. Reclaiming Judaism from Zionism will be controversial. Its contributors welcome the long overdue public debate. They want to demolish stereotypes of dissenting Jews as "self-hating," traitorous, and anti-Semitic. They want to introduce readers to the large and growing community of Jewish activists who have created organizations such as Jewish Voice for Peace, IfNotNow, and Open Hillel. They want to strengthen alliances with progressives of all faiths. Above all, they want to nurture models of Jewish identity that replace ethnic exclusiveness with solidarity, Zionism with a Judaism once again nourished by a transcendent ethical vision. An introduction and afterword by Carolyn L. Karcher set the narratives in historical context. Contributors include: Joel Beinin • Sami Shalom Chetrit • Ilise Benshushan Cohen • Marjorie Cohn • Rabbi and Cantor Michael Davis • Hasia R. Diner • Marjorie N. Feld • Chris Godshall • Ariel Gold • Noah Habeeb • Claris Harbon • Linda Hess • Rabbi Linda Holtzman • Yael Horowitz • Carolyn L. Karcher • Mira Klein • Sydney Levy • Ben Lorber • Shoshana Madmoni-Gerber • Carly Manes • Moriah Ella Mason • Seth Morrison • Eliza Rose Moss-Horwitz • Hilton Obenzinger • Henri Picciotto • Ned Rosch • Rabbi Brant Rosen • Alice Rothchild • Tali Ruskin • Cathy Lisa Schneider • Natalia Dubno Shevin • Ella Shohat • Emily Siegel • Rebecca Subar • Cecilie Surasky • Rebecca Vilkomerson • Rachel Winsberg • Rabbi Alissa Wise • Charlie Wood
Praise For Reclaiming Judaism from Zionism: Stories of Personal Transformation…
"[The contributors] walk the path of human rights activism inspired by the values of justice, solidarity, and equality held sacred in the prophetic Jewish tradition. These very personal stories inspire compassion, moral reflection, and, yes, courageous action. Such stories nourish the soul and are worth reading whether or not you are Jewish.

Carolyn Karcher has constructed an anthology that addresses the departure from Zionist ideology of a diversity of Jews from both the U.S. and Israel. Each section gives voice to a particular segment of Jews critically considering the impact of Zionism on their lives and choices, and most importantly, the life-threatening consequences of this ideology for Palestinian residents of Israel, and for those who live in the occupied West Bank and Gaza ' . This book is valuable in that it describes and gives voice to the challenge to distance one's self from an ideology that is presented as a liberation movement. These voices must contend with being called anti-Semitic and self-hating Jews by strangers as well as by family members. Jewish nationalism, as in other forms of nationalism spreading across the globe, is by its very nature discriminatory, creating Us and Them polarities that favor the dominant culture over all others. Israel has been able to do this because of American tax-payer money to the tunes of billions of dollars over the decades.
— Eleanor Roffman, Mondoweiss

These powerful stories send a message about the resilience and passion of a courageous group of Jews who have come to the realization that the state of Israel's treatment of Palestinians does not live up to the ethical standards Jewish tradition demands. Taken together, their words challenge the idea that Judaism and Zionism are inseparable. Their commitment to live a Jewish life without Zionism bodes well for the future of Judaism.
— Rebecca T. Alpert, Professor of Religion, Temple University

Carolyn L. Karcher has superbly edited a fascinating collection of autobiographical essays describing how devout American Jews disentangled themselves from the distortions of Zionism. In the process they recovered their authentic religiously and ethnically framed identities. Required reading for Jews, and engaging reading for everyone.
— Richard Falk, Milbank Professor of International Law Emeritus, Princeton University
Olive Branch Press, 9781623719142, 320pp.
Publication Date: April 12, 2019
About the Author
Carolyn L. Karcher is professor emerita of English, American Studies, and Women's Studies at Temple University and the author of many books and articles about the struggle for racial and gender equality in the U.S.
or
Not Currently Available for Direct Purchase