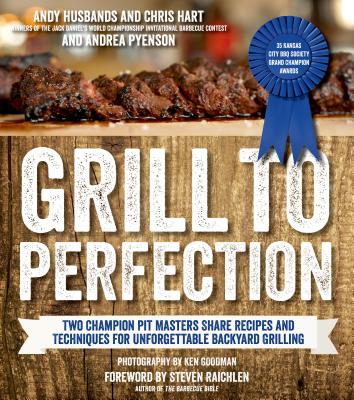 Grill to Perfection: Two Champion Pit Masters Shares Recipes and Techniques for Unforgettable Backyard Grilling (Paperback)
Two Champion Pit Masters Shares Recipes and Techniques for Unforgettable Backyard Grilling
Page Street Publishing, 9781624140426, 192pp.
Publication Date: April 1, 2014
Description
Veteran barbecue champions Andy Husbands and Chris Hart break the mold by offering a wide range of incredible new dishes for the grill both coal and gas that promise to wow family and friends with new taste sensations.
Grill to Perfection is for the adventurous backyard griller tired of the same old sauces and craving new flavors. Andy and Chris take influences from lesser-known but delicious styles in the US. They introduce key international dishes like sweet Korean barbecue; spicy Sichuan chicken sticks and Caribbean jerk ribs. This is an incredible collection of grilling recipes perfection hot off the grill.
In this book, Chris and Andy serve up new and incredible backyard culinary adventures, the perfect gift for the outdoor cook in your neighborhood.
About the Author
Andy Husbands is the award-winning chef/owner of Tremont 647 and Sister Sorel. Husbands' signature dish "180 ribs" was given the perfect score in a barbecue competition. Husbands has made several TV appearances, including his run as a contestant in Season 6 of Hell's Kitchen. Husbands was a semi-finalist in the James Beard Award's Best Chef category. Other honors include: Wine Spectator's Award of Excellence, grand prize in the National Poultry Council's Grab Bag Contest and several "Best of Boston" awards. Chris Hart is part of the IQUE barbecue team, which won the Jack Daniels World Championship Invitational Barbecue.Andrea Pyenson is a Boston-based food and travel writer and co-authored Wicked Good Barbecue.
Advertisement