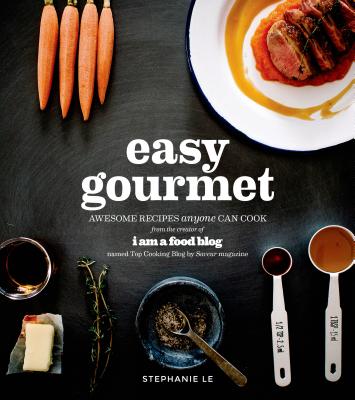 Easy Gourmet (Paperback)
Awesome Recipes Anyone Can Cook
Page Street Publishing, 9781624140624, 240pp.
Publication Date: September 2, 2014
* Individual store prices may vary.
Description
Make Delicious, Awe-Inspiring Dishes With Easy Gourmet
Sometimes you just want to make something simple, but you don't want to skimp on taste. Stephanie Le, creator of the popular site, I am a Food Blog, has recipes that are a cinch to make, yet bursting with flavor. So, whether you are a new cook, suddenly cooking for a hungry family, or you've just always been intimidated by what goes on in the kitchen and are ready to take a stab at it, you'll make dishes that'll impress your family and friends.
Stephanie will guide you through even the most complex techniques. In no time you'll be breezing through dishes like Maple-Glazed Duck, Miso Cod and Quinoa, Braised Beef Brisket and Raspberry Pistachio Pavlova. Her must-have recipes cover every meal and everything in-between, all paired with her signature stunning photography.
No matter how little you know in the kitchen, you'll be able to produce amazing dishes that'll surprise your family and friends and have them wondering if you secretly ordered from their favorite restaurant.
About the Author
Stephanie Le is the creator of I am a Food Blog, a food blog dedicated to dishes inspired by her favorite restaurants. Stephanie's blog was named Top Cooking Blog by Saveur magazine and her recipes have been featured on BonAppetit.com, FoodandWine.com, TheKitchn.com and Food52.com, to name a few. She lives in Vancouver, Canada.
Praise For Easy Gourmet: Awesome Recipes Anyone Can Cook…
"Easy Gourmet has blown my mind: the recipes are simple but stunning. They are creative yet real enough for everyday. I just want to jump inside this book and live there forever." —Jessica Merchant, howsweeteats.com
"Stephanie has created a book chock-full of beautiful photos, sleek design and heavenly food I want to eat every single day." —Adrianna Adarme, acozykitchen.com
"Simple, uncomplicated recipes for preparing gourmet meals. Who doesn't need that in this day and age? The big bonus is Stephanie's attention to detail, impeccable design and photography. I have no doubt that this cookbook will be in heavy rotation in my home!" —Tracy Benjamin, shutterbean.com
"From the stories, to the recipes, to the design, Easy Gourmet will woo you. This is one for the kitchen and the coffee table." —Melissa Coleman, thefauxmartha.com
"Stephanie's gorgeous book is so fresh, clean and beautiful that it's a pleasure to read. Her delicious recipes make cooking feel fun again." —Joanna Goddard, author of the blog A Cup of Jo