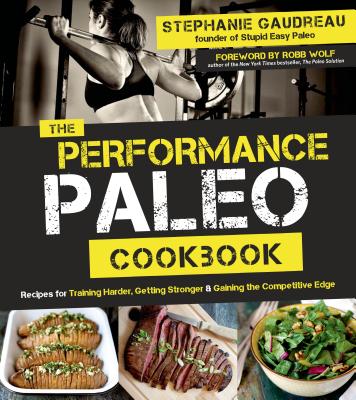 The Performance Paleo Cookbook
Recipes for Training Harder, Getting Stronger and Gaining the Competitive Edge
Paperback

* Individual store prices may vary.
Description
DELICIOUS, NUTRIENT-PACKED MEALS TO FUEL A BETTER PERFORMANCE

You train hard to perform well; your food should fuel the process and taste good, too. The Performance Paleo Cookbook gives you all the information and recipes you need to prepare delicious food that will help you get stronger today.

When you train, your body needs the right combination of nutrients-whether it's to support your workout or to aid in recovery. Following a Paleo-based diet with smart modifications for training is the best way to maximize your workout so that you can get stronger and raise your performance.

In this book you will get meal strategies based on your workout, meal combinations that pack a nutrient punch and recipes that will nourish you throughout your day-from pre-workout snacks to post-workout fuel and dozens of other carb-dense, nutrient-boosting meals to keep you at your best. And with 100 delicious recipes like Mocha-Rubbed Slow Cooker Pot Roast, Honey Garlic Lemon Chicken Wings, Baked Cinnamon Carrots, Savory Salt & Vinegar Coconut Chips and Banana Fudgesicles, who says healthy food has to taste bad? No matter how you choose to test the limits of your body, The Performance Paleo Cookbook has got your back with tasty, energizing food to help you train harder, recover faster and perform better.
Praise For The Performance Paleo Cookbook: Recipes for Training Harder, Getting Stronger and Gaining the Competitive Edge…
"Performance isn't just measured in the gym or on the field—you want to feel vibrant and energetic at work, at play and at home with your family. The Performance Paleo Cookbook will keep you well-fed and well-fueled, with delicious, easy-to-prepare recipes designed to support every kind of healthy lifestyle." —DALLAS AND MELISSA HARTWIG, New York Times bestselling authors of It Starts with Food: Discover the Whole30® and Change Your Life in Unexpected Ways

"The Performance Paleo Cookbook is the definitive guide for fueling active folks with real food that not only boosts strength and endurance, but also tastes amazing. Stephanie Gaudreau has got it all—brains, brawn and kickass cooking chops." —MICHELLE TAM, New York Times bestselling author of Nom Nom Paleo: Food for Humans

"Stephanie Gaudreau provides smart eating advice to help you reach your fitness and body goals. From pre- and post-workout nutrition to tasty meals and on-the-go snacks that satisfy, The Performance Paleo Cookbook deliciously merges science and creativity. This book makes me want to train harder and cook more!" —MELISSA JOULWAN, Author of Well Fed: Paleo Recipes For People Who Love To Eat and Well Fed 2: Paleo Recipes For People Who Love To Eat

"Steph's goal was to create a simple, easy-to-follow guide for people looking to fuel their training—both in and out of the gym. She not only executed her goal, she knocked it out of the park. The recipes are tasty and easy-to-follow, my two prerequisites when entering the kitchen." —JOHN WELBOURN, Founder of CrossFit Football and Power Athlete HQ, 9-year veteran of the NFL
Page Street Publishing, 9781624141010, 224pp.
Publication Date: January 6, 2015
About the Author
STEPHANIE GAUDREAU is the founder of Stupid Easy Paleo and has a certificate in holistic nutrition. Her work has been featured on NomNomPaleo.com, Whole9Life.com and RobbWolf.com. Paleo Magazine nominated one of Stephanie's recipes for a Best of 2013 Award. She lives in San Diego, California.
or
Not Currently Available for Direct Purchase