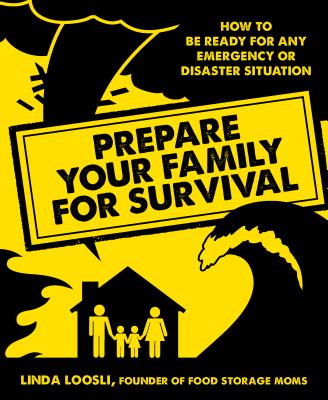 Prepare Your Family for Survival (Paperback)
How to Be Ready for Any Emergency or Disaster Situation
Page Street Publishing, 9781624141751, 192pp.
Publication Date: December 8, 2015
* Individual store prices may vary.
Description
A Practical Plan to Prepare Your Family for Real Emergencies
Prepare Your Family for Survival is a unique beginner resource and advanced storage guide to get your family totally prepared for the unexpected. Linda Loosli—of FoodStorageMoms.com—is a prepping expert who's spent decades researching emergency preparedness, food storage, and first aid for families with kids. She's compiled her hard-earned knowledge into easy-to-follow storage plans that cover everything from water and food to alternative cooking devices, emergency toilets, 72-hour kits for every member of the family (even babies and pets), first-aid kits, and more. You'll learn exactly what you need to store for a family of two, three, four, or five—whether you're preparing to survive for three days, seven days, or a month.
The book is packed to the brim with information, but Linda presents it in an easygoing and practical manner. Beginners find step-by-step plans for getting started frugally, while veteran preppers gain tips and advice for advanced preparedness and the top products on the market. Prepare Your Family for Survival is a book like no other with preparedness guides and storage methods that are tried and true, used by Linda and her family throughout the years.
It's an unfortunate fact that emergencies, power outages, and natural disasters happen around the world every year, but with Prepare Your Family for Survival, you'll be ready when it happens to you.
About the Author
Linda Loosli is the author of the popular blog Food Storage Moms. She's been researching topics on preparedness for nearly 50 years and has taught emergency-preparedness classes for individuals, private corporations, and state government agencies for decades. She has been interviewed for stories by The New York Times and Preparedness Radio Network. She lives in southern Utah with her husband, Mark.
Praise For Prepare Your Family for Survival: How to Be Ready for Any Emergency or Disaster Situation…
"I can always count on Linda for her extensive knowledge in food storage and all things related to emergency preparedness. Linda gives no-nonsense and reassuring advice, inspiring confidence to the beginner and expert alike."
—Bernie Carr, author of The Prepper's Pocket Guide, Jake and Miller's Big Adventure and ApartmentPrepper.com
"Linda's common-sense approach to emergency preparedness is a breath of fresh air. Rather than focusing on the gloom and doom, Linda shares hope and determination with her readers."
—Jim Cobb, author of Prepper's Long-Term Survival Guide and Countdown to Preparedness
"Linda is one of the most helpful people that I have met in the survival and prepper communities, and her help always comes with a dose of humor."
—Lisa Bedford, author of Survival Mom and TheSurvivalMom.com
"When it comes to family preparedness, Linda Loosli truly is an expert. She lives the preparedness lifestyle herself and shares her knowledge in a manner that just plain folks can understand and embrace. When I need help with preparedness and food storage, I ask Linda."
—Gaye Levy, author of Prepper's Guide to Food Storage and BackdoorSurvival.com
or
Not Currently Available for Direct Purchase