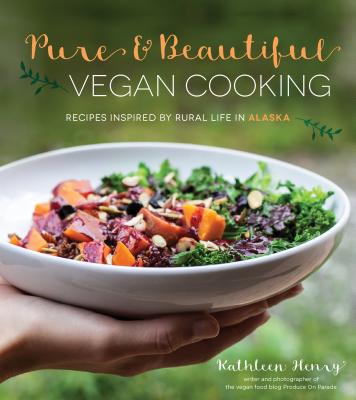 Pure & Beautiful Vegan Cooking (Paperback)
Recipes Inspired by Rural Life in Alaska
Page Street Publishing, 9781624141997, 208pp.
Publication Date: April 12, 2016
* Individual store prices may vary.
Description
Fresh, Delicious Recipes from an Alaskan Vegan Kitchen
Pure & Beautiful Vegan Cooking is a cookbook that speaks to your heart and soul, helping you to connect with others, the earth and yourself as you prepare beautiful, wholesome meals. Kathleen Henry's cooking is inspired by the pure and nourishing abundance of rural Alaska, where she was born and raised. The result is an incredible collection of 80 recipes that highlight plant-based, whole-food and seasonal ingredients, so you can be kind to your health and the environment. The recipes are versatile to any occasion—whether it's a quick weeknight dinner, a large gathering with friends or a quiet morning on your own—and they're so delicious you'll come back to them again and again. Inside you'll find recipes like:
- Caramel Banana-Oat Pancakes
- Creamy Rosemary Chickpea Pasta
- Baked Sage Risotto with Mushrooms & Chard
- Vegetable Chowder with Arugula
- Sweet Potato Beet Burgers
- Walnut-Chickpea Tacos with Chipotle Aioli
- Chai-Spiced Ginger Muffins
- Wild Blueberry, Rhubarb & Hazelnut Crisp
Whether you're a vegan, vegetarian or omnivore, the down-to-earth recipes and stunning photography in Pure & Beautiful Vegan Cooking will help you eat well and lead a compassionate, healthy life.
About the Author
Kathleen Henry is the founder, writer and photographer of the vegan food and lifestyle blog Produce On Parade. Her recipes have been featured on the websites of Self magazine, The Kitchn, PopSugar, One Green Planet, Bembu, Fox News and more. She and her husband live in Wasilla, Alaska.
Praise For Pure & Beautiful Vegan Cooking: Recipes Inspired by Rural Life in Alaska…
"Pure & Beautiful Vegan Cooking is a visceral story and guide for anyone wanting to get excited about food, anyone looking to feel better and any of us who are trying find magic in the little things in life (like blueberry crisp)!"
—Emily von Euw, creator of the food blog This Rawsome Vegan Life and bestselling author of Rawsome Vegan Baking
"Katie makes it so easy for anybody living anywhere to enjoy being vegan. Her spectacular recipes taste like gourmet creations, but are simple, accessible and affordable enough to whip up every day. You can't beat that!"
—Tess Masters, author of The Blender Girl
"I love Katie's approach to an abundant vegan lifestyle. There's an effortless elegance and meaningful connection to the source that's ever-present in her recipes."
—Laura Wright, owner of the award-winning food blog The First Mess