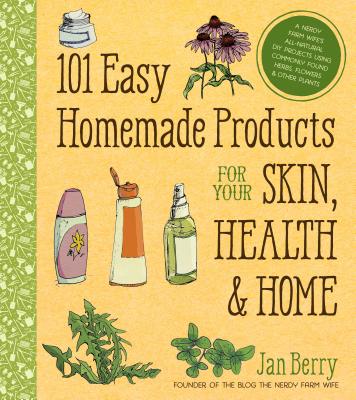 101 Easy Homemade Products for Your Skin, Health & Home (Paperback)
A Nerdy Farm Wife's All-Natural DIY Projects Using Commonly Found Herbs, Flowers & Other Plants
Page Street Publishing, 9781624142017, 256pp.
Publication Date: March 29, 2016
* Individual store prices may vary.
Description
Go Green in Every Part of Your Life with These Easy, All-Natural Herbal Products
Kick toxic, synthetic skin care products and cleaners out the door and bring the healing joy of nature into your life with the simple, versatile projects in 101 Easy Homemade Products for Your Skin, Health & Home. In this incredible resource, Jan Berry teaches you the basics of making your own skin care and hair care products, health remedies and household cleaners—then how to customize them into truly unique and personalized items! You'll learn how to make:
- Honey, Rose & Oat Face Cleanser
- Cool Mint Body Wash
- Basic Calendula Lotion
- Floral Salt Foot Scrub Bars
- Basil & Lime Lip Balm
- Lavender Oatmeal Soap
- Violet Flower Sore Throat Syrup
- Thyme Counter Cleaner
- Lavender Laundry Detergent
- And so much more!
All of the projects are easy to make and use commonly found herbs, flowers, oils and other natural ingredients. No fancy equipment or previous experience required! If you don't have a certain ingredient on hand, Jan provides tips on how to substitute and what works best. Going green has never been easier or more affordable. With this book, you can use local, natural ingredients to make something beautiful, effective and good for you and your family.
Expand your herbal product collection with these other books in Jan Berry's bestselling series:
- Simple & Natural Soapmaking
- Easy Homemade Melt & Pour Soaps (newly released!)
About the Author
Jan Berry is the writer and photographer of the blog The Nerdy Farm Wife, where she shares creative ways to turn herbs, flowers and other garden plants into pretty things that are fun and practical. She writes regularly for HobbyFarms.com and Natural Herbal Living magazine. Her projects have been featured on Natural Living Mama, Empress of Dirt, Lovely Greens, BuzzFeed, Money Saving Mom, the Bulk Herb Store Blog and more. She lives on a farm in the Blue Ridge Mountains of Virginia with her husband, two children and a menagerie of farm animals.
Praise For 101 Easy Homemade Products for Your Skin, Health & Home: A Nerdy Farm Wife's All-Natural DIY Projects Using Commonly Found Herbs, Flowers & Other Plants…
"If I could only choose one book to lead me from garden to kitchen to make my own body care products, this would be the one. This book is a keeper!"
—Marlene Adelmann, founder and director of The Herbal Academy
"This book is full of tested recipes and solid instructions. It has a little bit of everything. I love the practical tips for handling ingredients and safely storing your handmade products."
—Anne-Marie Faiola, founder of SoapQueen.com, owner of Bramble Berry and author of Soap Crafting and Pure Soapmaking
"Beautifully arranged and photographed! Jan has finally taken her wonderful recipes and gorgeous photography and created a dreamy handcrafter's guide. Her whimsical formulas combine play and purpose, making this a useful book to enjoy year-round."
--Holly Bellebuono, director The Bellebuono School of Herbal Medicine and author of The Essential Herbal for Natural Health and The Healing Kitchen
"So many books provide recipes for the do-it-yourselfer to make at home, but few give you tips for how to craft your own recipes. I'm excited to make Jan's recipes, but over-the-moon about the idea that her readers will be encouraged to source simple ingredients from the backyard and get creative in the kitchen to make natural bodycare products at home!"
-Dawn Combs, author of Heal Local and co-owner of Mockingbird Meadows
"Whether you have a small handful of dried calendula in the cupboard or a yard full of dandelions you want to put to good use, Jan Berry is your best friend. The deep connection she has with the plants she works is evident as she introduces you to their personalities and dreams up simple and creative ways to invite them into your home. 'Nerdy' doesn't quite describe this farm wife's enthusiasm for herbs—she's pure genius!"
- Rachael Brugger, managing editor at HobbyFarms.com and UrbanFarmOnline.com