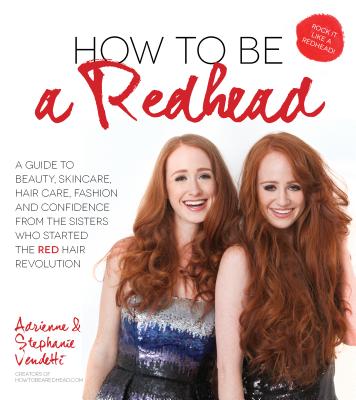 How to Be a Redhead (Paperback)
A Guide to Beauty, Skincare, Hair Care, Fashion and Confidence From the Sisters Who Started the Red Hair Revolution
Page Street Publishing, 9781624142222, 272pp.
Publication Date: April 12, 2016
* Individual store prices may vary.
Description
The Essential Guide to Becoming Your Most Radiant, Redheaded You
If you have red hair, you know it's more than just a color—it's a way of life that comes with its own challenges, like unique makeup needs, fashion questions and hair dilemmas. How to be a Redhead has the answers to all your redhead beauty questions, with specialized advice and tips for hair care, skincare, makeup, health and fashion.
With this book, redheads get:
- The best products, tools and tips to keep your hair stunning and your complexion clear
- Easy step-by-step hairstyle tutorials
- Tips for nourishing your sensitive skin throughout the year
- Effortlessly cool day-to-night makeup looks
- How to achieve the perfect red lip
- Redhead fashion dos and don'ts
- How to look and feel your best
Written by redheads, sisters and starters of the Red Hair Revolution, Adrienne & Stephanie Vendetti, How to be a Redhead is packed full of all the inspiration and advice a redhead could ever want. With this must-have book, you'll learn to rock your red head with confidence, grace and glowing beauty.
About the Author
Adrienne & Stephanie Vendetti are sisters, best friends and cofounders of the popular website HowtobeaRedhead.com. They coined the phrase "Rock it like a Redhead" to proclaim the importance of rockin' red hair with certainty and spunk. They now curate and produce live redhead red-carpet beauty events under the same name. The How to be a Redhead brand has been featured by the New York Times, ABC News, Refinery29, Cosmopolitan UK, BuzzFeed, DailyMail, Fast Company, SHAPE magazine and others. They live in New York, New York.
Praise For How to Be a Redhead: A Guide to Beauty, Skincare, Hair Care, Fashion and Confidence From the Sisters Who Started the Red Hair Revolution…
"I only wish I had a go-to guide like How to be a Redhead when I was growing up! Being a part of the 2% of redheads on the planet is not easy. The Vendetti sisters are sharing a collection of great and useable secrets just for us!"
—Sondra Currie, Actress/Producer, The Hangover
"How to be a Redhead is a wonderful resource for any redhead because it promotes self-love, body confidence and pride in your ginger fabulousness! If only I had this book when I was growing up!"
—Challen Cates, Actress, Big Time Rush
"How to be a Redhead is truly an amazing book! Finally, a book that is for us redheads. Now all redheads can have a guide to give them the confidence they need! I wish I had this book to show me how to rock it sooner."
—Taylor Foster, Model
"All the tips and tricks you need to show off our unique luscious locks and rock it like a redhead!"
—Lucy Dixon, Actress