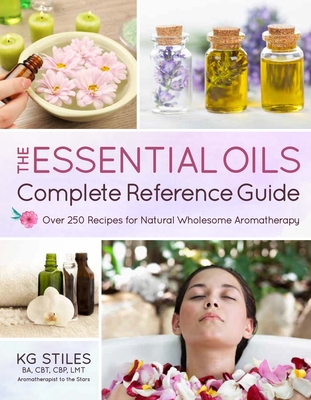 The Essential Oils Complete Reference Guide (Paperback)
Over 250 Recipes for Natural Wholesome Aromatherapy
Page Street Publishing, 9781624143045, 464pp.
Publication Date: January 31, 2017
* Individual store prices may vary.
Description
Everything You Need to Know About Essential Oils for Pure Healing & Wellness
Explore the world of natural, nontoxic essential oils for all aspects of your life. Stimulate your senses and soothe your body and soul with the popular practice that has become a respected, safe alternative to modern medicine. Learn all about essential oils to use for bettering your life and the lives of your family and friends.
Included are:
- Profiles of the most widely used essential oils
- Formulas and blending guides with the most effective techniques for using them
- Accurate application methods from time-honored poultices to modern day steam inhalation
- Remedies for a wide range of ailments including muscle strain, headaches and skin problems
- DIY personal care from beauty treatments, massage and cooking to moms & new babies, pets and spiritual healing
- Over 300 stunning images
This comprehensive guide is a must-have resource and welcome addition to the libraries of experienced and novice aromatherapists alike.
About the Author
KG Stiles, BA, CBT, CBP, LMT, is a metaphysician, holistic health coach and aromatherapy consultant providing expert essential oil services since 1980. She has worked with many celebrities over the past three decades and has published hundreds of articles, many of which have appeared in Massage Therapy Journal, Massage Today, Breast Cancer Wellness magazine, Aromatherapy Today (Australia) and NAHA Aromatherapy Journal. She lives in Ashland, Oregon.
Praise For The Essential Oils Complete Reference Guide: Over 250 Recipes for Natural Wholesome Aromatherapy…
"This well may be the most comprehensive book yet written on this subject. Highly recommended!" — Jonathan Goldman, award-winning and best-selling author and Grammy nominee
"KG is the most knowledgeable person we know on essential oils and their practical and effective uses." — Mali Apple and Joe Dunn, authors of the award-winning book The Soulmate Experience: A Practical Guide to Creating Extraordinary Relationships
"The Essential Oils Complete Reference Guide is a must read for everyone interested in how and why these remarkable oils can be used to improve many aspects of our lives." — Eldon Taylor, PhD, FAPA, New York Times best-selling author of Choices and Illusions
"I highly recommend this excellent book." — John L. Turner, M.D., neurosurgeon and author of Medicine, Miracles and Manifestations

"Frankly this is the most well researched book on the subject of aromatherapy I have ever seen. On every page I find interesting information I had not come across before, from the very practical to the very esoteric. It is also a real feast for the eyes. I think every massage therapist would invest well getting this goldmine of information. Thank you KG for this very beautiful gift to our profession." — Frank Coppieters, Ph.D., L.M.T. and author of Handbook for the Evolving Heart