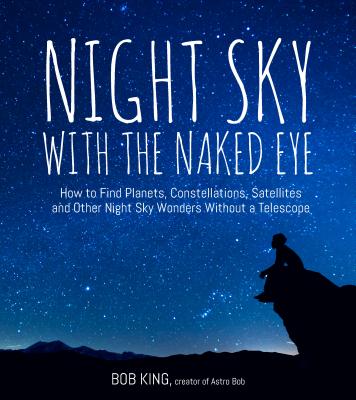 Night Sky With the Naked Eye
How to Find Planets, Constellations, Satellites and Other Night Sky Wonders Without a Telescope
Paperback

* Individual store prices may vary.
Description
Understand and Enjoy the Wonders of the Stars with Fun Activities for the Whole Family

Gain a deeper appreciation of the universe and our place in it with Night Sky with the Naked Eye. Learn how to spot the International Space Station, follow the moon through its phases, forecast an aurora and watch a meteor shower along with traditional night sky activities such as identifying the bright planets, stars and constellations. Fun activities embrace modern technology with the best apps and websites that make it easy for anyone to observe the greatest spectacles of the sky without a telescope or other expensive equipment.

An expert in his field, Bob King teaches night sky courses and makes cosmic mysteries practical and accessible for skywatchers new and old. Understand what makes stars twinkle and where meteors come from in this complete guide to the heavens. Unique illustrations and stunning photos help the reader understand the concepts presented. Tips on how to photograph satellites, eclipses and the aurora are also included. Unravel the secrets of the universe while deepening your appreciation of its beauty through this clear and concise guide.
Praise For Night Sky With the Naked Eye: How to Find Planets, Constellations, Satellites and Other Night Sky Wonders Without a Telescope…
"No telescope? No problem. Let Bob be your guide to the night sky, with only your eyes (and a sense of wonder and curiosity)." —Fraser Cain, Publisher, Universe Today

"One doesn't need an expensive telescope and a lot of expensive equipment to appreciate the beauty that our nighttime skies offer us. Instead, a pair of eyes is sometimes all we need—along with a good guide to help us appreciate and understand just what we're seeing. Bob King's book provides just such a guide." —Alan Hale, co-discoverer of Comet Hale-Bopp and founder of the Earthrise Institute

"Bob King's book had me at these words: 'It may be science, but it sure feels like magic.' Because the night sky does feel like magic, and Bob has captured that feeling perfectly, in language that anyone can understand. He was already one of my favorite night sky writers. Now . . . I'm in awe." —Deborah Byrd, Editor-In-Chief, EarthSky

"Most people think you need fancy equipment and special locations to appreciate the night sky. Night Sky with the Naked Eye guides new skywatchers to the natural and artificial wonders of the sky visible with their own eyes from their own neighborhoods, making astronomy accessible to everyone." —Emily Lakdawalla, Senior Editor, The Planetary Society
Page Street Publishing, 9781624143090, 224pp.
Publication Date: November 8, 2016
About the Author
Bob King is the writer of the blog Astro Bob. He is an avid skywatcher both night and day and a member of the American Association of Variable Star Observers. Bob writes for Universe Today, Sky & Telescope magazine and the Duluth News Tribune, where he is also the photo editor. He lives in Duluth, Minnesota.
or
Not Currently Available for Direct Purchase