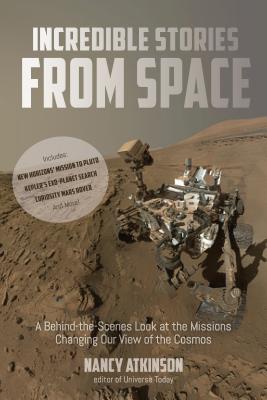 Incredible Stories from Space (Paperback)
A Behind-the-Scenes Look at the Missions Changing Our View of the Cosmos
Page Street Publishing, 9781624143175, 224pp.
Publication Date: December 20, 2016
* Individual store prices may vary.
Description
Experience the Amazing Unmanned Journeys to Explore the Universe
In Incredible Stories from Space, veteran space journalist Nancy Atkinson shares compelling insights from over 35 NASA scientists and engineers, taking readers behind the scenes of the unmanned missions that are transforming our understanding of the solar system and beyond. Weaving together one-on-one interviews along with the extraordinary sagas of the spacecraft themselves, this book chronicles the struggles and triumphs of nine current space missions and captures the true spirit of exploration and discovery. Full color images throughout reveal scientific discoveries and the stunning, breathtaking views of our universe, sent back to Earth by our robotic emissaries to the cosmos.
-Travel along with the first mission to Pluto
-Explore Mars alongside the Curiosity Rover
-Join the unprecedented hunt for extrasolar planets
-Unlock the mysteries of the cosmos with the iconic Hubble Space Telescope
-Discover the latest findings in our solar system
-See the future of space exploration with a preview of upcoming missions
About the Author
Nancy Atkinson is an editor and writer for Universe Today, a popular space and astronomy news website. She is also a NASA/JPL Solar System Ambassador. She lives in Minnesota.
Praise For Incredible Stories from Space: A Behind-the-Scenes Look at the Missions Changing Our View of the Cosmos…
"From the wonders of our own solar system to the hunt for Earthlike worlds around other stars, to our Sun's nuclear furnace to the beauty of distant stars and galaxies, get ready for a journey you will never forget." —Andrew Chaikin, author of A Man on the Moon
"Bravo, what a great read—the chapter on New Horizons left me teary-eyed." —Alan Stern, Principal Investigator, New Horizons Pluto-Kuiper Belt mission