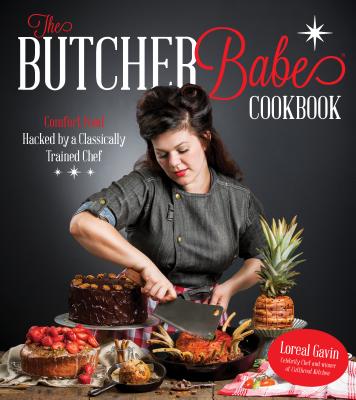 The Butcher Babe Cookbook: Comfort Food Hacked by a Classically Trained Chef (Paperback)
Comfort Food Hacked by a Classically Trained Chef
Page Street Publishing, 9781624143274, 224pp.
Publication Date: April 25, 2017
Description
Loreal Gavin's background is unique and combined with a strong, quirky personality, she elevates eclectic recipes for a hardcore cooking crowd by embracing old school techniques but putting her personal spin on recipes to make them her own. Think Nascar meets gourmet. Loreal teaches readers the rules of cooking meats and sweets so they know how to break them. She highlights chef techniques with variations, corresponding to key moments in her career.
Loreal provides the knowledge and science behind these recipes, as well as budget friendly tips, specific lessons that made her a better cook and ways to amp up recipes to take your cooking to the next level. From becoming trained in classical French cuisine, to working in a butcher shop, then attending culinary school for pastry, The Butcher Babe Cookbook is the story of Loreal's culinary journey behind her career so far. Learn recipes like her Beef Tongue Tacos, Corndog Casserole, Rootbeer Pig Belly Bites, Mini Turducken and Ambrosia Ice Cream Bars. This book will have 100 recipes and 60 photos.
About the Author
Loreal Gavin was born and raised in Louisiana before moving to Indiana. She studied culinary arts at Sullivan University and worked at L.E. Kincaid & Sons Meat Market in Indianapolis. Loreal was a chef at Bourbon's Bistro where she cooked for various distillers. She appeared on Next Food Network Star and won Cutthroat Kitchen. She lives in Louisville, KY.
Advertisement