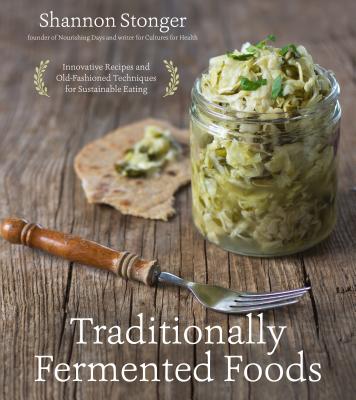 Traditionally Fermented Foods
Innovative Recipes and Old-Fashioned Techniques for Sustainable Eating
Paperback

* Individual store prices may vary.
Description
Harnessing traditions from previous generations to preserve food is not only a passion for Shannon Stonger, but a way of life. Shannon walked away from a career in chemistry to raise her family. Shortly thereafter, she and her husband moved their family off the grid to discover a more simple, agrarian life. With only minimal solar-powered electricity, Shannon relies on practical food preservation techniques, such as fermentation, to provide nutritious food for her family while cutting food costs.

In Traditionally Fermented Foods, Shannon shows readers how to preserve food using traditional fermentation techniques, often without refrigeration. An alternative to canning and freezing, traditionally fermented foods do not require modern technology to preserve. You can learn Shannon's authentic preservation technique, which she depends on daily to put food on the table, so you know they work. You can also learn how fermented foods work, how to make fermented foods and how to use fermented foods in recipes. This book contains over 80 recipes with corresponding photos.
Praise For Traditionally Fermented Foods: Innovative Recipes and Old-Fashioned Techniques for Sustainable Eating…
"With the huge role that our gut flora plays in conferring optimal health, the importance of fermentedfoods in the diet has taken center stage. Traditionally Fermented Foods covers all the basics and also includes many unusual recipes like Triple-Ferment Potato Salad and Sourdough English muffins." — Sally Fallon Morell, President, The Weston A. Price Foundation


"Shannon's unpretentious and down-to-earth writing about the beautiful process of fermentationmakes it do-able for beginners and oh-so-inspiring for advanced fermenters. Only someone who has really had their hands in hundreds of ferments, as Shannon has, would know how to explain "when is it done?" (so you know what you're looking for) and "what's safe?" (so you can feel confident in what you make)." — Wardee Harmon, author of The Complete Idiot's Guide to Fermenting Foods and Lead Teacher at TraditionalCookingSchool.com


"Shannon's respect for the role of fermentation in food preservation is manifested through every recipe, paragraph and photo in this beautiful book. Both the dedicated home cook and aspiring beginner will benefit from her expertise. Traditionally Fermented Foods should be in every modern kitchen." — Aimée Wimbush-Bourque, award-winning writer at Simple Bites and author of Brown Eggs and Jam Jars


"Whether you're just getting started or have been fermenting for years, Traditionally Fermented Foods is certain to become a newfound favorite resource! Shannon shares her expertise in the science of fermentation, with easy and delicious recipes that help readers gain confidence in the art of fermentation. The best part is, she not only provides step-by-step instructions for preparing traditional fermented favorites, but also shares how to use these basic ferments in creating a wide variety of tasty dishes." ––Kelly Smith, TheNourishingHome.com
Page Street Publishing, 9781624143304, 224pp.
Publication Date: May 9, 2017
About the Author
Shannon Stonger is the founder of Nourishing Days and a writer for Cultures for Health. She holds a bachelor's degree in chemistry. Shannon and her family have lived on an off-grid homestead since 2011. She lives in Santa Anna, Texas.