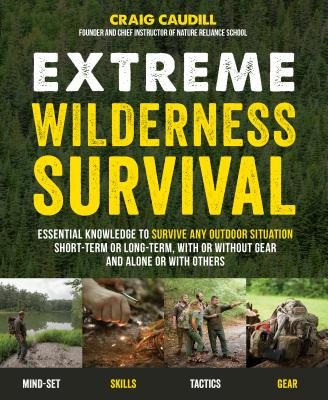 Extreme Wilderness Survival
Essential Knowledge to Survive Any Outdoor Situation Short-Term or Long-Term, With or Without Gear and Alone or With Others
Paperback

* Individual store prices may vary.
Description
Real-World Tactics for Safety and Survival in Extreme Situations

For the beginner and way beyond, Extreme Wilderness Survival has what every outdoorsman needs to stay safe in the woods: the right mind-set, skills, advanced tactics and gear choices based on real experiences. Craig Caudill of Nature Reliance School has spent four decades gathering expertise in outdoor survival—including two 30-day solo sabbaticals in remote woods with only a knife. He teaches military personnel as well as everyday citizens how to avoid trouble and what to do when you can't avoid it. In this book, Craig puts it all together in a sensible way, step by step, for almost any scenario—from getting lost alone to extreme group tactics.

You'll learn how to:
· Strengthen your mental fortitude
· Heighten awareness to avoid danger
· Hunt, fish and forage for food
· Make gear from scratch
· Use tactics and self-defense to fight off predators
· Track animals and other people
· Choose the right gear to help you get home safe always

In this book, you'll learn how to work with nature, not against it, so you can travel with a healthy dose of confidence and caution, stay safe and survive no matter what dangers you encounter.
Praise For Extreme Wilderness Survival: Essential Knowledge to Survive Any Outdoor Situation Short-Term or Long-Term, With or Without Gear and Alone or With Others…
"Craig has written one of the most densely-packed manuals of survival common sense I've ever read. Clearly cultivated from countless hours in the field, this information can save your life. Read it. Memorize it. Use it!"
—CREEK STEWART, Survival Instructor, Author and TV Host

"Craig Caudill's Extreme Wilderness Survival is a great intro to all things survival and tactical for the extremes, covering not only the fundamentals of survival but also new subjects traditionally reserved only for the military. It is sure to get everyone thinking about some new aspects of the overall survival situation they may encounter."
—MYKEL HAWKE, U.S. Army Special Forces Combat Veteran, Author and Host of Lost Survivors

"Craig Caudill has masterfully captured the art of extreme survival. The everyday Joe or Joan can fully understand and learn from this book!"
—EJ SNYDER, Extreme Survivalist, 25-Year Army Combat Vet, Host of Dual Survival

"Essential reading for the outdoors enthusiast. From tenderfoot to special forces, Craig's expertise covers all bases."
—TIM FARMER, Outdoorsman and Host of Tim Farmer's Country Kitchen

"Craig Caudill knows from hard-won experience what works and what doesn't. If I were in a true survival situation, I can't think of another instructor I'd want by my side."
—JIM COBB, Author of Prepper's Long-Term Survival Guide

"The quality of information in this book will keep you safe in a 'time is life' scenario. I highly recommend this manual to be read more than once and to be studied regularly."
—MAJOR RODNEY VAN ZANT, Special Response Team Leader, Owner of Iron Sight Defense

"It is with great pleasure that I recommend Craig Caudill's book Extreme Wilderness Survival. Craig shares a solid knowledge on wilderness survival skills."
—MIKE HULL, Law Enforcement Officer, Owner of VITALE LLC and Author of Man Tracking in Law Enforcement
Page Street Publishing, 9781624143366, 192pp.
Publication Date: March 21, 2017
About the Author
Craig Caudill is the chief instructor and founder of Nature Reliance School. He has trained military groups through the Department of Defense, as well as federal, state and local law enforcement agencies. Craig has written for American Frontiersman, Self-Reliance Illustrated, Backwoodsman and Wilderness Way. He lives in central Kentucky.
or
Not Currently Available for Direct Purchase