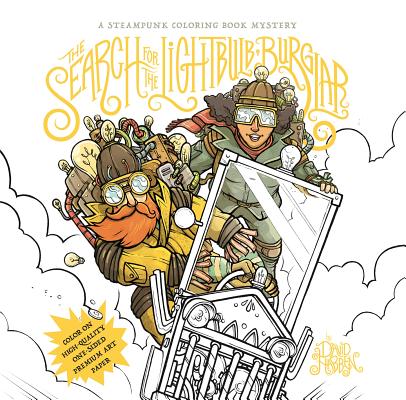 The Search for the Lightbulb Burglar (Paperback)
A Steampunk Coloring Book Mystery
Page Street Publishing, 9781624143748, 108pp.
Publication Date: May 2, 2017
* Individual store prices may vary.
Description
Escape the modern world and travel to a land of fantasy with The Search for the Lightbulb Burglar. David Habben's illustrations follow the journey of the light bulb explorers through their steampunk world. Steampunk is a genre of fantasy/science fiction that reimagines Victorian era designs with modern technology, often through the use of steam. It spans from literature (Jules Verne; H.G. Wells) to fashion, music, lifestyle, etc. The style of the characters with lightbulbs on their heads can be seen as steampunk in style, with the goggles, Victorian-esque clothing, gears and backpack apparatus.
David takes readers to an exciting and inspiring fantasy world where the light bulb explorers are on a journey to rescue a rare light bulb from an evil collector, complete with gears and airships, often seen as hallmarks of the steampunk style. This coloring book is unique because it not only provides a topic that has not been used in the coloring book world, but it also tells a story. It features 50 unique illustrations and gold foil on the front cover.
About the Author
David Habben is an artist and illustrator who creates artwork for children's books, interactive campaigns, apparel and galleries throughout the world, and is the founder of HABBENINK. David received his BFA from Brigham Young University and MFA Studio Art at the University of Utah. He lives in Salt Lake City, Utah.