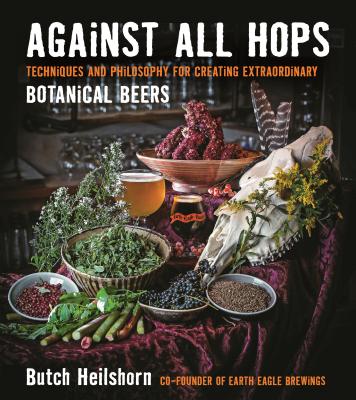 Against All Hops
Techniques and Philosophy for Creating Extraordinary Botanical Beers
Paperback

* Individual store prices may vary.
Description
Are you a home brewer who's tiring of the usual suspects, cycling through the same styles and flavors? Are you a professional brewer who's cranking through the same catalogue of beers year after year, just adding more hops with each rotation? There might be a bit of salvation here for you.

Join brewer Butch Heilshorn and discover gruits: incredible botanical beers that were brewed throughout the world for most of human history. Butch provides techniques and approaches for the intermediate to advanced brewer to create these unique out-of-the-box brews. These increasingly popular beers use a wide array of plants, often local to the brewer, to delight palates and ignite imaginations. Butch's philosophy espouses a practical reverence for the earth, a deep appreciation for the plants he regards as brewing partners and a decidedly anti-authoritarian streak, encouraging brewers to use his recipes as a jumping off point for their own adventures in botanical brewing—the ability to capture the essence of a particular time and place.

YA BETCHA YOU'LL DIG THESE BEERS!
Praise For Against All Hops: Techniques and Philosophy for Creating Extraordinary Botanical Beers…
"A wonderful book! Truly a pleasure to read; I can't recommend it highly enough." —Stephen Harrod Buhner, author of Sacred andHerbal Healing Beers



"This book captures Butch's commitment to the uniqueflavor opportunities offered by herbs, spices, flowers, trees and fungi—and even the occasional moose's head. Providing historical notes and information on the medicinal properties of the herbs used and where to find them, Against All Hops is a practical guide which motivates us to think outside of the box and get creative with our beer." —Will Meyers, brewmaster, Cambridge Brewing Company


"If you're trying to wrap your head around the rapidlyexpanding world of botanical beers, there's no better place to start than the extensive experiments in Against All Hops. It's not a rejection of hops, but a warm embrace of just about everything else."—Randy Mosher, author of RadicalBrewing, Tasting Beer, Mastering Homebrew and Beer for All Seasons


"Butch throws all convention out the window on brewing beer with hops and embellishes the use of herbs and spices . . . Nothing is off limits for the gruit. Against All Hops is a fun must-read for all practitioners of brewing anything other than hop based brews, be they witches or just interested brewers."—Tod Mott, co-founder, Tributary Brewing Company


"These beautiful ideas begin to uncover the whole world of beers which we have tragically lost from our human consciousness. The stagnant, monopolistic and excessive use of hops substituting for creativity in beer is hereby threatened! Long live the revolution!"—Brian Hunt, founder, Moonlight Brewing Company


"A fascinating and mouthwatering look at the multiple alternatives to hops in beer that our ancestors knew all about and we havealmost forgotten. You'll put this book down not just wanting to drink the beers described inside, but brew them yourself."—Martyn Cornell, beer historian, author and blogger at Zythophile.co.uk
Page Street Publishing, 9781624143793, 144pp.
Publication Date: October 31, 2017
About the Author
George "Butch" Heilshorn and his brother-in-law Alex McDonald run Earth Eagle Brewings, a craft brewpub in historic downtown Portsmouth, NH.
or
Not Currently Available for Direct Purchase