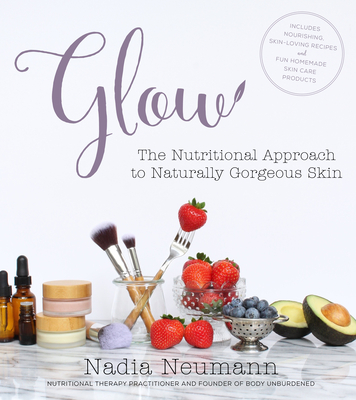 Glow
The Nutritional Approach to Naturally Gorgeous Skin
Paperback

* Individual store prices may vary.
Description
Get Your Glow On With Skin-Loving Foods & Homemade Products
Improve your skin the way nature intended—with real, fresh ingredients! Nutritional Therapist Nadia Neumann completely transformed her skin by making simple switches to a nourishing, real food diet and natural skincare routine. In Glow, Nadia walks you through the steps to naturally clear, radiant skin from the inside out.
Learn the ways that issues inside your body—like inflammation you may not even notice—manifest themselves on your skin as acne, dryness or eczema. On the flip side, get the deets on how common skincare products and routines—like washing your face with harsh cleansers twice a day—can actually make these skin troubles worse. It's science, but Nadia's fun and friendly writing makes these issues easy to understand and fix for good. She'll even spark your creativity in the kitchen with fabulous recipes like glow-getting smoothies, easy lunches and skin-nourishing dinners. Not to mention plenty of fun and unique DIY skincare products like masks, toners, eye creams and face oil blends. Packed with Nadia's stunning photography, no other book will both inform and inspire you like this. Everybody—both young and old—has naturally gorgeous skin just waiting to be revealed; with this book, you will finally get your glow for life.
Praise For Glow: The Nutritional Approach to Naturally Gorgeous Skin…
"This book is an absolute gem for anyone looking to improve the health and appearance of their skin. Not only will this book be an asset to my personal library, I will be recommending it to my nutritional therapy clients for years to come."
—Amy Love, NTP, Founder of Real Food Whole Health
"Nadia's encouraging, practical guide provides the steps to finally enjoy clear, glowing skin. Reach for this book before reaching for the benzoyl peroxide and antibiotics!"
—Lauren Geertsen, NTP, Founder of EmpoweredSustenance.com and Cofounder of Meo Energetics
"Your skin—and tastebuds!—will love everything in this awesome book."
—Stephanie Gerber, Founder and Editor of Hello Glow
"This book is not a quick fix—it will give you the tools and information needed to improve your skin for good!"
—Arsy Vartanian, Founder of Rubies and Radishes
"Glow is an invaluable resource. Nadia provides a clear and comprehensive overview of exactly how to solve complex skin issues. If you're looking for a life-long manual for clear skin, this is your book."
—Noelle Tarr, NTP, CPT, Founder of Coconuts and Kettlebells and Strong From Home
Page Street Publishing, 9781624143830, 192pp.
Publication Date: June 20, 2017
About the Author
Nadia Neumann is a Nutritional Therapy Practitioner and the founder of the popular health and wellness website Body Unburdened. She has appeared on The Dr. Oz Show, and she's been featured in numerous news and media outlets. She lives in San Jose, California.
or
Not Currently Available for Direct Purchase