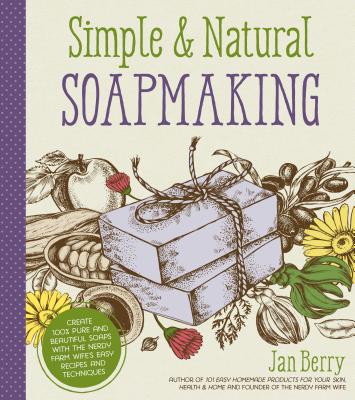 Simple & Natural Soapmaking
Create 100% Pure and Beautiful Soaps with The Nerdy Farm Wife's Easy Recipes and Techniques
Paperback

* Individual store prices may vary.
Description
Create Fabulous Modern Soaps The Truly Natural, Eco-Friendly Way

With this new comprehensive guide, herbalist Jan Berry offers everything the modern-day enthusiast needs to make incredible botanical soaps. Beginners can join in the sudsy fun with detailed tutorials and step-by-step photographs for making traditional cold-process soap and the more modern hot-process method with a slow cooker. Jan presents 50 easy, unique soap recipes with ingredients and scents inspired by the herb garden, veggie garden, farm, forest and more. Sample soap recipes you won't want to miss are Lavender Milk Bath Bars, Sweet Honey & Shea Layers Soap, Creamy Avocado Soap, Citrus Breeze Brine Bars, Mountain Man Beard & Body Bars and Classic Cedarwood & Coconut Milk Shave Soap. Featured resources are Jan's handy guides to common soapmaking essential oils and their properties, oil and milk infusions with healing herbs and easy decoration techniques. The book also contains Jan's highly anticipated natural colorants gallery showcasing more than 50 soaps that span the rainbow. Soap crafters of all levels will enjoy referencing this book for years to come.

*All recipes are sustainably palm-free!*

Expand your herbal product collection with these other books in Jan Berry's bestselling series:
- Easy Homemade Melt & Pour Soaps (newly released!)
- The Big Book of Homemade Products for Your Skin, Health & Home (coming April 2020, available for pre-order now)
Praise For Simple & Natural Soapmaking: Create 100% Pure and Beautiful Soaps with The Nerdy Farm Wife's Easy Recipes and Techniques…
"If you enjoy the simple beauty of natural soaps, the recipes within these pages are literally made for you! They cover the full gamut from basic recipes for beginners to more complex creations perfect for experienced soapmakers."
—Kenna Cote, Modern Soapmaking

"This book is gorgeous and will coax the novice soap maker to dive into soapmaking with joy. The recipes are challenging enough to keep the experienced soapmaker interested, while learning creative techniques from the herbalists' repertoire. This book makes a valuable contribution to the soapmaking literature."
—Chris Dalziel, author of The Beeswax Workshop

"Even as a seasoned soapmaker I am excited by this book! Beautiful photos, appealing soap recipes and in-depth tutorials make this soapmaking book a gem for your permanent soaping library."
—Rebecca Dillon, Soap Deli News blog

"Jan Berry is such an inspiration to me and many others. She explains things and teaches so well. Her books are a must-have whether you are a beginner or an experienced soap maker. With her many years of experience with herbs and natural soap making, you'll definitely learn something new."
—Tina Moenck, Natural Suds N More

"This book is a very thorough resource for a brand-new soapmaker, with fun ideas for someone with more experience as well. I love that the recipes contain all natural ingredients with helpful tips for working with natural colorants and suggestions for oil substitutions."
—Amy Warden, Great Cakes Soapworks

"This book will be a great addition to any soapmaker's library. A terrific guide for beginners and a helpful reference for the experienced."
—Elin Criswell, author of Creative Soap Making and Bubbles to Bucks
Page Street Publishing, 9781624143847, 192pp.
Publication Date: August 8, 2017
About the Author
Jan Berry is the soapmaker and herbalist behind The Nerdy Farm Wife. She's also the author of 101 Easy Homemade Products for Your Skin, Health & Home. Jan lives on a small farm in the Blue Ridge Mountains of Virginia with her husband and two teenagers, where she enjoys gardening, crafting pretty herbal concoctions, caring for a menagerie of farm animals and, of course, soapmaking.