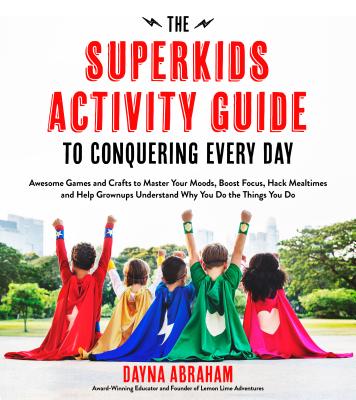 The Superkids Activity Guide to Conquering Every Day
Awesome Games and Crafts to Master Your Moods, Boost Focus, Hack Mealtimes and Help Grownups Understand Why You Do the Things You Do
Paperback

* Individual store prices may vary.
Description
Help Your Kids Stay Calm, Be Happy and Make Every Day Amazing

Do kids' behaviors leave you confused and frustrated? Dayna Abraham is teaching the world there's a better way.

She, too, was baffled by her son's behaviors until she realized the power of using science and child development to see him for the superkid he already was. In this revolutionary book, Dayna bridges the gap between kids and the adults who love them by empowering kids to be their own problem solvers and helping adults understand what kids really need to succeed. As a teacher, writer and mother, she explains that undesirable behaviors are really a cry for help. Kids have a need, but lack the tools and skills to express it. In this book, she gives kids fun projects and tools that boost their ability to control their behaviors, explain how they're feeling and gain confidence.

Each of the 75 unique sensory-rich projects in The Superkids Activity Guide to Conquering Every Day will help kids navigate the most challenging times of day. Whether they struggle to get out the door in the morning or hate to sit for homework, this is the book for you. Kids will be begging to clean their room, their dinner plates and more with exciting activities such as:

· Magnetic Morning Routines to help kids visualize their time and tasks to stay on track
· Race to the Finish Dinnertime Gameboard to help even the pickiest eater find foods they like
· Seated Silly Busters so even the wiggliest kid can get their work done
· Weighted Snake Lap Buddies to calms fidgety legs and minds
· Calming Glitter Slime to squash big worries
· No-Sew Weighted Blanket to ensure a good night's rest
· … and so much more

The Superkids Activity Guide to Conquering Every Day puts the power into kids' hands to understand themselves, discover their superpowers and have an awesome day, every day.
Praise For The Superkids Activity Guide to Conquering Every Day: Awesome Games and Crafts to Master Your Moods, Boost Focus, Hack Mealtimes and Help Grownups Understand Why You Do the Things You Do…
"Brilliant! Dayna has masterfully created a unique guide to navigating life with kids that will end the battles and arguments once and for all."
—Amy McCready, founder of Positive Parenting Solutions, author of The "Me, Me, Me" Epidemic

"Pure genius! Superkids will feel more than empowered after reading this book, and will find themselves succeeding at times when they used to feel stressed."
—Sheila McCraith, founder of The Orange Rhino, author of Yell Less, Love More

"Finally, a path to understanding instead of arguing! Using humor, creativity and respect, Dayna empowers kids to be capable, problem-solving superkids."
—Alissa Marquess, founder of Bounceback Parenting® and the Parenting Secret Mission Society

"The Superkids Activity Guide embraces the unique challenges faced by today's kids in a positive way. These fun activities will make each day go more smoothly."
—Vanessa Levin, early childhood specialist and founder of Pre-K Pages

"Sometimes superkids need a sidekick to help them see the awesome, creative and quirky uniqueness that makes them who they are. Dayna Abraham has built that sidekick masterfully in this fun and brilliantly organized kid-friendly book, designed to empower your superheroes to go out and conquer their struggles and be awesome every day."
—Colleen Kessler, educational consultant, speaker, author of 100 Backyard Activities That Are the Dirtiest, Coolest, Creepy-Crawliest Ever! and founder of Raising Lifelong Learners

"Dayna Abraham makes what can be the hardest parts of kids' and parents' days empowering and fun. This book is full of creative solutions for families to turn peer struggles into super powers."
—Allison McDonald, teacher, author of Raising a Rock-Star Reader and founder of No Time for Flashcards
Page Street Publishing, 9781624144158, 208pp.
Publication Date: August 15, 2017
About the Author
Dayna Abraham is a mom, teacher and writer, but before all that she was a misunderstood superkid herself. She's written The Superkids Activity Guide to Conquering Every Day so superkids and parents can learn to understand each other and get along better. She is the founder of the website Lemon Lime Adventures, and she's a co-author of STEAM Kids, Sensory Processing 101 and The Unoficcial Guide to Learning with LEGO®. Before she was a writer, she was an award-winning National Board Certified teacher. She lives outside Chicago, Illinois.
or
Not Currently Available for Direct Purchase