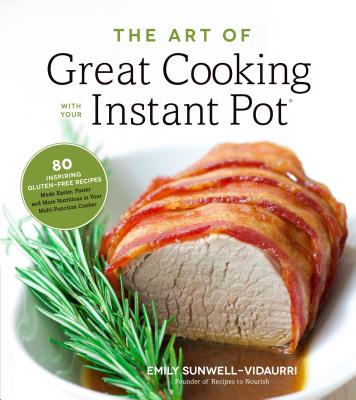 The Art of Great Cooking With Your Instant Pot (Paperback)
80 Inspiring, Gluten-Free Recipes Made Easier, Faster and More Nutritious in Your Multi-Function Cooker
Page Street Publishing, 9781624144318, 192pp.
Publication Date: October 17, 2017
* Individual store prices may vary.
Description
Unleash Your Cooker's Potential with Showstopping, Healthy Meals
If you love cooking with your Instant Pot®, this cookbook will take your obsession to the next level of deliciousness and ease. These 80 restaurant-worthy recipes will have you cooking fresh, new flavors and healthy meals faster than ever. Discover your cooker's power with tender meats, gourmet pasta dishes, comforting casseroles and even desserts. All of the recipes support your family's wellness with real, nutrient-rich and gluten-free ingredients. A sampling of the recipes include:
• Citrus-Herb Basque Chicken
• Braised Lemongrass Meatballs
• Sweet Grapes & Tarragon Pork Chops
• Creamy Butternut Squash, Apple & Aged Cheddar Soup
• Bacon, Kale & Mushroom Spaghetti
• Spiced Pumpkin Bundt Cake
With The Art of Great Cooking with Your Instant Pot®, you'll learn new techniques, eat healthier and impress your family at every meal.
About the Author
Emily Sunwell-Vidaurri is the founder of the food blog Recipes to Nourish. Her recipes have been featured on feedfeed and in Beautiful Smoothie Bowls. She's written for Delicious Obsessions, Homemade Mommy, Live Simply, With Food + Love, Red and Honey, and Hybrid Rasta Mama. She lives in Northern California with her husband and two daughters.
Praise For The Art of Great Cooking With Your Instant Pot: 80 Inspiring, Gluten-Free Recipes Made Easier, Faster and More Nutritious in Your Multi-Function Cooker…
"As a working mom, I'm always looking to save a little time in the kitchen without compromising on quality or taste, and Emily Sunwell-Vidaurri's The Art of Great Cooking with Your Instant Pot is an immensely valuable resource that helps me to do just that. Her brilliant recipes and easy approach make cooking in the Instant Pot a dream."
—Jenny McGruther, author of The Nourished Kitchen and Broth & Stock

"This gorgeous book is destined to become one of my family's favorites. Emily's flavorful meals make hectic weeknights survivable. This book is the shortcut to real food that busy cooks need!"
—Kris Bordessa, founder of Attainable Sustainable
"Emily's new cookbook is not only beautiful, it's nourishing! I'm sure it's going to be a favorite with moms who are looking for healthy, fast AND yummy whole-food dishes using the Instant Pot®!"
—Wardee Harmon, founder of Traditional Cooking School
"One of the biggest challenges in the real-food lifestyle is getting healthy, delicious food on the table fast. Emily has the answer with mouthwatering recipes the whole family will love. It has become an invaluable resource in my kitchen and a go-to recommendation for my clients."
—Amy Love, nutritional therapist and founder of Real Food Whole Health
"My favorite kitchen appliance just got a promotion and my taste buds are dancing! Now you can take your beloved Instant Pot and easily turn dinner into a restaurant-worthy masterpiece in the comfort of your own kitchen."
—Jessica Espinoza, founder of Delicious Obsessions
"With Emily's book, your eyes will feast on her beautiful photos, and your body will be nourished by her thoughtful choice of ingredients."
—Laurie Neverman, creator of Common Sense Homesteading and author of Never Buy Bread Again
"Emily is my go-to for real food recipes for busy families. Her new book is a godsend. It can be so hard to find healthy Instant Pot recipes but she cooks up 80 mouth-watering savory and sweet recipes that save so much time in the kitchen."
—Tracey Black, author, wellness educator and founder of Don't Mess with Mama™
"If you're looking for delicious, warm comfort foods that you can whip up in minutes in your Instant Pot, you just hit the mother load. Emily has filled this book with simple, lip smacking recipes that will bring everyone running to the table (and begging for seconds)."
—Kelly Bejelly, author of Paleo Eats and founder of A Girl Worth Saving
"Ever since I was introduced to my Instant Pot I've been on the hunt for amazing recipes & I couldn't believe my luck when I discovered Emily's cookbook! Not only is it full of mouth watering images, her creativity shines in recipes that are accessible for any home cook. Emily's book will be my lifeline for making sure I'm feeding my kids healthy meals, fast!"
—Trisha Hughes, founder of Eat Your Beets
"Rich, truly gourmet meals prepared quickly and easily are within even an unskilled cook's reach with Emily's debut cookbook. This book will be a dog-eared favorite in my kitchen."
—Amanda Torres, author of Latin American Paleo Cooking
"I've been making Emily's recipes for years, and this cookbook is everything I was hoping for: comfort food that's gourmet but quick to make on a weeknight, and desserts that aren't hard to create."
—Megan Stevens, author of Eat Beautiful: Grain-Free, Sugar-Free and Loving It and founder of Eat Beautiful