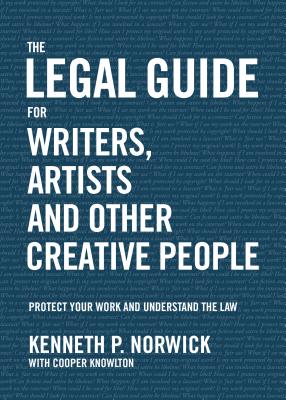 The Legal Guide for Writers, Artists and Other Creative People (Paperback)
Protect Your Work and Understand the Law
Page Street Publishing, 9781624144493, 288pp.
Publication Date: September 12, 2017
* Individual store prices may vary.
Description
This comprehensive, authoritative and accessible book enables creators to understand the legal rights and safeguard their work from a wide variety of risks in both cyberspace and traditional media. It explains major developments in the applicable law and in the publishing, communications, art and entertainment businesses so you'll be able to confidently secure your work, negotiate contracts and avoid lawsuits.
This essential book guides you through the major legal areas of special concern to creators: copyright and other legal rights; libel, privacy, obscenity and other legal risks; contracts; the cyber revolution; and business and tax matters affecting creative people. Whether you are an author, artist, photographer or are in another creative field, this approachable guide will help you become legally savvy without having to wade through dense legal jargon or rely on Google searches or Wikipedia.
About the Author
Kenneth P. Norwick is a nationally recognized laywer, author and tracher who specializes in the legal subjects covered by this book. His clients have included His Holiness the Dalai Lama, Annie Leibovitz, Mitch Albom, Playboy magazine and the Association of Authors' Representatives.
Praise For The Legal Guide for Writers, Artists and Other Creative People: Protect Your Work and Understand the Law…
"We authors and artists are good at creating but not so good at navigating the legal and financial side of our business. That is why I'm so gateful for a foolproof guide like this one to help show the way."
—Willie Geist, NBC's Today & MSNBC's Morning Joe, bestselling author
"For a clear, plain language easy-to-read explanation of the law affecting the rights of authors, painters, photographers, etc., you won't do better. And it's even fun to read."
—Ira Glasser, former executive director of the ACLU