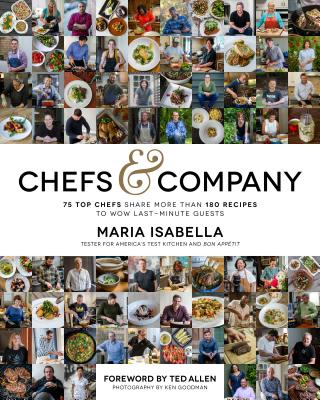 Chefs & Company (Hardcover)
75 Top Chefs Share More Than 180 Recipes To Wow Last-Minute Guests
Page Street Publishing, 9781624144554, 464pp.
Publication Date: October 10, 2017
* Individual store prices may vary.
Description
At Home with the Biggest Names in Food
This incredible, never-before-assembled collection of recipes offers a rare and exciting glimpse into the private home kitchens of 75 culinary superstars as they prepare show-stopping meals for their own last-minute guests in an hour or less.
For example, Curtis Stone whips up delicious Charcoal-Grilled Rib Eye Steaks & Boccolini, while Stephanie Izard prepares a fabulous Stir-Fried Eggplant and Sesame Cucumber Salad. For her choice, Naomi Pomeroy makes a mouthwatering Pasta Amatriciana. These aren't complicated, fussy recipes. They're stress-free dishes the chefs fall back on to impress those closest to them—and ones you can easily duplicate in your own home kitchen.
With more than 180 personal recipes, secret tips, inside advice, beverage pairings, and music playlists—plus gorgeous full-color photos—you're set up for success no matter the occasion. It's only a matter of time before someone special drops by.
Chefs include:
MING TSAI
CURTIS STONE
STEPHANIE IZARD
NAOMI POMEROY
HUGH ACHESON
LIDIA BASTIANICH
RICK BAYLESS
MICHELLE BERNSTEIN
JOHN BESH
SUSAN FENIGER
ANDY HUSBANDS
SEAN BROCK
EDWARD LEE
ANITA LO
JENN LOUIS
TIM LOVE
JONATHAN WAXMAN
MARC MURPHY
CHARLIE PALMER
CARLA PELLEGRINO
ERIC RIPERT
AARÓN SÁNCHEZ
DANIEL BOULUD
ROBERT DEL GRANDE
KATIE BUTTON
SHAUN HERGATT
GAVIN KAYSEN
KRISTEN KISH
MICHAEL WHITE
ANDREW ZIMMERMAN
JODY ADAMS
ZOI ANTONITSAS
NYESHA J. ARRINGTON
CLARK BARLOWE
JOEY BEATO
EMMA BENGTSSON
JONATHAN BENNETT
DANTE BOCCUZZI
STUART BRIOZA & NICOLE KRASINSKI
ZACK BRUELL
CESARE CASELLA
JIM CHRISTIANSEN
SONYA COTÉ
GREG DENTON & GABRIELLE QUIÑÓNEZ DENTON
TIFFANY DERRY
TRACI DES JARDINS
RON DUPRAT
FORD FRY
KENNY GILBERT
MARIA HINES
CHRIS HODGSON
LINTON HOPKINS
MATT HOYLE
MIKE ISABELLA
JENNIFER JASINSKI
JOSEPH "JJ" JOHNSON
JEAN JOHO
DOUGLAS KATZ
TONY MAWS
RYAN MCCASKEY
TORY MILLER
BRUCE MOFFETT
MATT MOLINA
KEVIN SBRAGA
BARTON SEAVER
ALON SHAYA
BRYCE SHUMAN
ANA SORTUN
ANGELO SOSA
SUSAN SPICER
ETHAN STOWELL
BILL TELEPAN
BART VANDAELE
JOANNE WEIR
ERIC WILLIAMS
About the Author
Maria Isabella is the bestselling author of the award-winning cookbook, In the Kitchen with Cleveland's Favorite Chefs. She's also a tester for America's Test Kitchen and Bon Appétit, a judge for the IACP awards, and a member of the James Beard Foundation and Les Dames d'Escoffier. She lives in Cleveland, Ohio.
Ken Goodman is a freelance photographer based in New York City. The ultimate culinary insider, he is a classically trained chef whose photos have appeared in Rolling Stone, The Wall Street Journal, and many award-winning cookbooks.
Praise For Chefs & Company: 75 Top Chefs Share More Than 180 Recipes To Wow Last-Minute Guests…
"Chefs & Company is as much a cookbook as it is a celebration of home cooking at its absolute best!"
- Gail Simmons, chef, judge on Top Chef, author
"I love getting ideas for last-minute entertaining from the chefs in this beautifully-photographed book. If anyone knows how to throw a party, it's this fabulous group of culinary rock stars!"
- Dana Cowin, former editor-in-chief of Food & Wine magazine, author
"Maria Isabella has captured the essential question that all home cooks lean on professionals for: What can I make for dinner in less than an hour? The answers are insightful while the recipes are fun and approachable. What makes this book come alive are Ken Goodman's brilliant photos."
- Andrew Zimmern, three-time James Beard Award-winning TV personality, chef, writer
"In Chefs & Company, Maria and Ken get you a table that nobody can get—inside the home kitchens of chefs from every corner of our food-obsessed country."
—Ted Allen, host of Chopped, bestselling author
"It's exciting to see books like Chefs & Company make restaurant culture accessible to cooks of all skill levels. Maria's book has already found a spot on my kitchen bookshelf as a go-to!"
- Geoff Bartakovics, founder of TastingTable.com
"When you need inspiration to get a meal on the table, reach for this cornucopia of recipes by some of the coolest chefs in the nation."
- Tom Douglas, James Beard Award-winning chef, restaurateur, author, radio talk show host
"Chefs & Company makes me want to stop what I'm doing and throw a dinner party! This book is a delight to the senses that gives us a rare and intimate view of how America's gastronomic heavyweights cook at home."
- Anna Watson Carl, author of The Yellow Table

"Chefs & Company is the kind of cookbook that inspires creativity in the kitchen and rewards one's passion for beautiful food. The bonus is how quickly and easily it all comes together!"
- Pascale Naessens, bestselling author, ceramic artist, lecturer
"The best cookbooks not only help you to make a delicious dinner, but they also teach you how to be a better cook. Chefs & Company is that kind of book."
- Carla Snyder, James Beard Award-nominated author, recipe developer, blogger
"Maria Isabella has crafted a cookbook both useful and enchanting. Above all, her ability to tease out each chef's unique personality lifts this book beyond mere recipes and into the realm of good reads."
- Elaine T. Cicora, James Beard Award-winning food writer, editor, restaurant critic
"Want to WOW your friends, your family, and yourself? Feast on this must-have collection of show-stopping meals from gifted chefs who have sculpted America's palate!"
- Bev Shaffer, award-winning food/travel writer, author