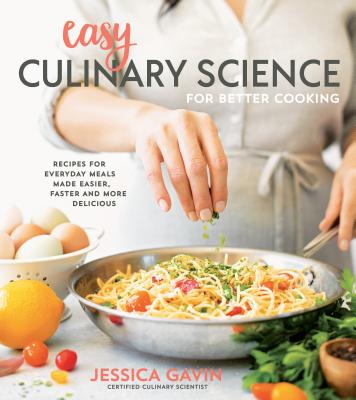 Easy Culinary Science for Better Cooking
Recipes for Everyday Meals Made Easier, Faster and More Delicious
Paperback

* Individual store prices may vary.
Description
Use Simple Science To Transform Good Dishes Into Great Dishes


Take the guesswork and mystery out of cooking and become an improved chef with Easy Culinary Science for Better Cooking.


In this book, the practical science behind great food is broken down in an accessible, digestible way without overwhelming even the greenest of cooks. Jessica Gavin's approachable recipes seamlessly blend together food science and culinary arts, to maximize flavor potential.


Jessica will expand your skill set and confidence in the kitchen, all while creating tasty culinary masterpieces. Learn the science behind how things work, how foods interact from a cooking or baking perspective and how to make flavorful, flawless meals consistently. Whether it's mastering a perfect Pan-Seared Ribeye with Miso Butter or Scallops with Garlic Sauce, accomplishing impeccable Eggs Benedict and Mushroom Risotto, or whipping up a sensational Blender Hollandaise Sauce, this book has it all.


Elevate your favorite recipes to make them phenomenal, faster and more delicious, any night of the week
Praise For Easy Culinary Science for Better Cooking: Recipes for Everyday Meals Made Easier, Faster and More Delicious…
"All cooking is appliedscience—understanding how cooking works will help you master new techniques andbecome a more confident cook. Easy Culinary Science for Better Cooking helpscurious home cooks navigate the basics of culinary science. Packed withapproachable recipes and time-saving tips, every meal will become anopportunity for readers to learn something new and apply it."
—NATHAN MYHRVOLD, leadauthor of Modernist Cuisine: The Art andScience ofCooking,Modernist Cuisine at Home, The Photography ofModernist Cuisineand Modernist Bread

"Science and technique are at the heartof all cooking, but when we focus so much on the science, we lose sight of themost important thing: how delicious the thing on the plate is. Easy CulinaryScience for Better Cooking balances these two sides perfectly."
—J. KENJI LÓPEZ-ALT, chefand author of The Food Lab: Better Home Cooking Through Science

"I can teach you how to season a steakand grill it to perfection. However, the science behind the browning anddistinctive flavor of the steak is what I cannot explain. Jessica Gavin doesthis brilliantly in Easy Culinary Science for Better Cooking."
—JEAN-GEORGES VONGERICHTEN, MichelinStar restaurateur and chef

"I've always said that the 'why' isjust as important as the 'how,' and Easy Culinary Science for Better Cookingwill teach you both. Delicious recipes are just a bonus to the wealth ofknowledge you will receive."
—JET TILA, chef,media personality and author of 101 AsianDishes You Need to Cook Before You Die

"Is cooking an art or is it a science? Why can't it be both?! Jessica Gavin may not be Bill Nye, but I sense that she may be a much better cook. Sorry, Bill . . . "
—MARTIN YAN, celebrity chef and TV host of Yan Can Cook

"Jessica has found the perfect formula to capture the attention and imagination of the new generation of foodies who also like science and have good taste! I will use this book with my talks directed to our Culinology orientation at my institution."
—Dr. Rafael Jiménez-Flores DR. RAFAEL JIMÉNEZ, Professor and JT Parker Chair in Dairy Foods at The Ohio State University

"Easy Culinary Science for Better Cooking is like a mini culinary course in book form and is the perfect primer for today's new crop of home cooks! Jessica excellently demonstrates the intricate science involved in cooking, while remaining approachable and easy to read. With gorgeous photography and skillfully craf ted recipes, this book will be an interesting and tasty read for cooks of any level."
—BETH MONCEL, founder of BudgetBytes.com and Saveur Blog Award winner

"Easy Culinary Science for Better Cooking is full of delicious, foolproof recipes, beautiful photos and helpful cooking tips. Jessica's food science background shines through on every page!" —JACLYN BELL, founder of CookingClassy.com

"From the lovely stories and delicious recipes to the captivating science, Jessica will become your instant best friend and culinary companion in the kitchen!"
—SALLY MCKENNEY QUINN, author of Sally's Baking Addiction
Page Street Publishing, 9781624144844, 224pp.
Publication Date: May 8, 2018
About the Author
Jessica Gavin is a certified culinary scientist and food science industry professional with formal culinary school training. Her work has been featured on Food Network, USA Today, The Kitchn and more. She lives in Orange County, CA.
or
Not Currently Available for Direct Purchase