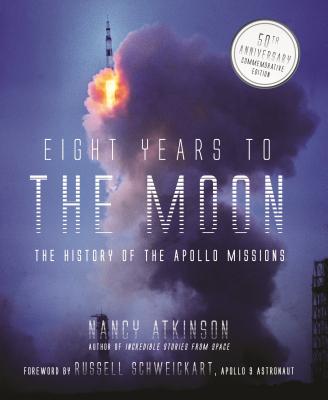 Eight Years to the Moon (Hardcover)
The History of the Apollo Missions
Page Street Publishing, 9781624144905, 240pp.
Publication Date: July 2, 2019
* Individual store prices may vary.
Description
A Behind-the-Scenes Look At NASA's incredible Journey to the Moon

Space journalist and insider Nancy Atkinson weaves together the riveting story of NASA's mission to complete "the greatest adventure on which humankind ever embarked."

This incredible account is a keepsake celebrating some of the most important and dramatic events in modern history. Told through over 60 personal interviews and oral histories, as well as personal photographs, this tribute to the men and women who made the Apollo 11 mission a reality chronicles the highs and lows that accompanied the race to the Moon: the devastating flash fire that killed the crew of Apollo 1; the awe of those who saw their years-in-the-making contributions to space exploration blast off from Cape Canaveral; the knuckle-biting descent of Apollo 11 to the lunar surface; a near-catastrophic event on the crew's flight home; the infectious excitement and jubilation across the world after the astronauts returned safely to Earth.

These little-known stories of the dedicated engineers, mathematicians and scientists in the 1960s reveal the "hows" of the Apollo missions and bring to life the wonder and excitement of humanity's first steps on the Moon.
About the Author
Nancy Atkinson is a science journalist and author. She has been with Universe Today since 2004 and has contributed articles to several other publications, including Ad Astra, Seeker, Space.com, Wired and New Scientist. Her first book, Incredible Stories From Space tells the behind the scenes tales of those who work on NASA's missions to explore the solar system and beyond.

Apollo 9 astronaut Russell L. (Rusty) Schweickart is a retired business and government executive. He co-founded the B612 Foundation, a private nonprofit foundation that champions the development of spaceflight capability to protect Earth from future asteroid impacts. Schweickart is also founder and past president of the Association of Space Explorers (ASE), the international professional society of astronauts and cosmonauts. He and his wife Nancy Ramsey live in Sonoma, California.
Praise For Eight Years to the Moon: The History of the Apollo Missions…
"Hundreds of thousands of unsung heroes were part of the Apollo program to reach the Moon, and Nancy Atkinson has meticulously researched and written about many of them here. She's a great storyteller and happily, Eight Years to the Moon takes us behind the scenes to many places we've never been before!"
—Peter King, correspondent, CBS News Radio Orlando/Kennedy Space Center

"Atkinson has seamlessly woven the stories of hidden figures and forgotten linchpins into a narrative that lets readers live through the missions."
—Sarah Scoles, science journalist and author of Making Contact: Jill Tarter and the Search for Extraterrestrial Intelligence

"Atkinson has achieved the nearly impossible task of writing a truly original and engaging narrative of the Apollo program, with little-known and rarely told details of what it took to put humans on the Moon. Highly recommended."
—Rod Pyle, space author, journalist and Editor-In-Chief, Ad Astra magazine

"Of nearly 400,000 people who worked on Project Apollo, we hear mostly about the handful of Apollo astronauts whose names will survive centuries into the future. But in this fascinating book, Nancy Atkinson introduces us to dozens of people, many of them engineers, who didn't make national headlines, yet were absolutely vital to the program. Her writing is based on an extensive collection of interviews that she conducted with many of the protagonists themselves, or with people who remembered them. Avoiding technical language, Nancy presents a captivating, behind-the-scenes history of Project Apollo that you will have trouble putting down."

—David Warmflash, MD, author of Moon: An Illustrated History: From Ancient Myths to the Colonies of Tomorrow

"Transportive...immersive." - Fahrenheit Pop Science Book Club

"Nancy Atkinson takes you deep into these events and many others in a very comfortable narrative style which is more personable than the somewhat stoic official recollections we've all read of those days...Highly recommended." - Keith Cowing, The Space Ref

"Atkinson's book is one of the best books published on Apollo." - Asif Siddiqi, Science

"What [Eight Years to the Moon] does, though, is remind readers that Apollo was more than just a few astronauts, politicians, and engineers usually discussed in the history of the program. An army of people worked out of the spotlight on elements that were small but essential to the success of the program, each with their own tales of trials and triumphs." - Jeff Foust, The Space Review