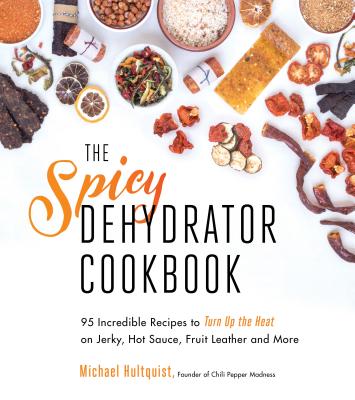 The Spicy Dehydrator Cookbook (Paperback)
95 Incredible Recipes to Turn Up the Heat on Jerky, Hot Sauce, Fruit Leather and More
Page Street Publishing, 9781624145025, 192pp.
Publication Date: January 9, 2018
* Individual store prices may vary.
Description
Easy, Flavorful and Hot Recipes for Your Dehydrator
Take your dehydrator to new and spicy heights with Michael Hultquist's innovative recipes for everything from hot sauces and spice mixes to jerky and soups that you can rehydrate later. If you're in the mood for a mildly spicy jerky or want a hot sauce recipe that will take your breath away, The Spicy Dehydrator Cookbook has got you covered.
These recipes will help you get better use out of your dehydrator and stock your pantry with staples that last longer and taste better too. Serious chiliheads will love the Ragin' Cajun Ghost Pepper Hot Sauce and Spicy Coffee-Maple Bacon Jerky. Easily-rehydrated meals like Butternut Squash Risotto and Coconut Chickpea Curry can make any meal gourmet in no time, and Chocolate-Strawberry Power Bars are perfect for a healthy energy boost on the go.
With helpful tips, tricks and killer recipes, The Spicy Dehydrator Cookbook has everything you need to spice up your food preserving game.
About the Author
Michael Hultquist, founder of the blog Chili Pepper Madness, is an author, screenwriter and chili pepper enthusiast. He lives in Lake in the Hills, Illinois.
Praise For The Spicy Dehydrator Cookbook: 95 Incredible Recipes to Turn Up the Heat on Jerky, Hot Sauce, Fruit Leather and More…
"Jumpstart your flavor experience by devouring this one-of-a-kind cookbook. It will flavor spank your taste buds awake!"
—"Famous Dave" Anderson, America's Rib King and founder of Famous Dave's of America, Inc.
"Who knew you could do so many things with a dehydrator? The Spicy Dehydrator Cookbook moves the dehydrator from the back of the pantry to the center of the kitchen."
—Sommer Collier, creator of A Spicy Perspective
"This book is simply amazing! If you've been curious about dehydrating, this is THE book you need. Buy this book and prepare to be amazed!"
—Amanda Batcher, founder of The Chunky Chef
"This is the BEST dehydrator book you can buy and the ONLY book you'll ever need."
—Joanna Cismaru, creator of Jo Cooks and author of 30-Minute One-Pot Meals
"This is a masterpiece that should be in every chilihead's kitchen."
—Sir McMillen, publisher of Chile Pepper Magazine
"The Spicy Dehydrator Cookbook offers a hot new way of turning the process of dehydration into an art. Mike's unique recipes will appeal to any spice or dehydrator enthusiast."
—Rick Carey, president of the Nesco Brand