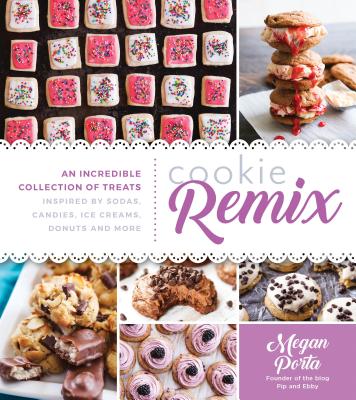 Cookie Remix (Paperback)
An Incredible Collection of Treats Inspired By Sodas, Candies, Ice Creams, Donuts and More
Page Street Publishing, 9781624145193, 176pp.
Publication Date: January 30, 2018
* Individual store prices may vary.
Description
Out of This World Cookies Inspired by Your Favorite Sweet Treats
Cookie lovers rejoice! In her debut cookbook, Megan Porta reinvents the classic cookie using flavors you already love. Whether you're new to baking or a seasoned pro, Megan offers exciting new ways to take your desserts to the next level.
Sink your teeth into these tasty cookies:
• Cherry Cola
• Strawberry Milkshake
• Red Velvet Cake
• Dark Roast Coffee
• Blueberry Pie
• Jelly-Filled Donut
• Salted Caramel Apple Pie
• Raspberry Lemonade
• Chocolate Peanut Butter Crispy Rice
With over 75 mouthwatering original recipes perfect for any occasion, Cookie Remix is your ticket to cookie heaven.
About the Author
Megan Porta is the founder of the popular food blog Pip andEbby. Her work has been featured in Woman's World and Southern Living. Shelives in Minneapolis.
Praise For Cookie Remix: An Incredible Collection of Treats Inspired By Sodas, Candies, Ice Creams, Donuts and More…
"Cookie Remix is a must-have for anyone who is looking for out-of-this-world cookie recipes to impress. I'll certainly never put it down!"
- Sally McKenney, creator of the blog Sally's Baking Addiction
"Megan's recipes are what I look to when I need to feel inspired. They are creative, vibrant and trustworthy."
- Christy Denney, creator of the blog The Girl Who Ate Everything
"The pitch-perfect flavors in this book will make you a potluck hero."
- Jane Deitrich, creator of the blog Bakers Brigade
"This is the rare book where you can actually replicate the beautiful food you see in the photos with little to no effort. This will definitely be a heavily-used cookbook in my house!"
- Brie Dyas, founding editor of HuffPost Home
"Cookie monsters, grab your mixing bowls and turn on your ovens—I predict your family and friends will suddenly be all too happy to hang out in your kitchen!"
- Kristy Greenwood, owner of Victory Love + Cookies in Denver, Colorado
"This is the type of book that will be open on your counter all year long!"
- Jamielyn Nye, author of I Heart Naptime Cookbook
"In Cookie Remix, Megan has created a remarkably flavorful cookie recipe for every occasion."
- Alea Milham, creator of the blog Premeditated Leftovers and author of Prep-Ahead Meals from Scratch
"Megan Porta's Cookie Remix is the only cookie cookbook you'll ever need. Her creative recipes are tantalizing, easy to follow and pure genius."
- Diane Fluin, creator of the blog Diane's FoodBlog
"These are exactly the type of daring, delicious and bold recipes I've always been drawn to."
- Robin Wehl Martin, owner of Hello Robin in Seattle, Washington