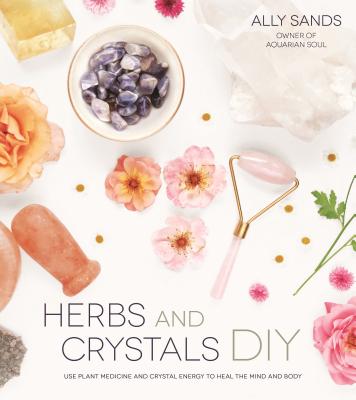 Herbs and Crystals DIY
Use Plant Medicine and Crystal Energy to Heal the Mind and Body
Paperback

* Individual store prices may vary.
Description
Heal Your Mind and Body and Enhance Your Everyday Life

Ally Sands—master herbalist and founder of Aquarian Soul—shares her expertise on healing herbal properties, as well as how to effectively use over twenty different crystals, including amethyst, opal and rose quartz. When these powerhouses are used together, they form a potent combination to relax, energize and help you live a happier and healthier life. Every project—from a passion flower tincture, to a wild flower and crystals face steam, to building a crystal mandala—focuses on improving mental and physical wellness.

Whether you are looking to alleviate anxiety, practice mindfulness or enhance your beauty routine, Ally's unique recipes and crafts will show you how best to harness the incredible power of herbs and crystals.
Praise For Herbs and Crystals DIY: Use Plant Medicine and Crystal Energy to Heal the Mind and Body…
"What makes this book so unique is the artful blending of the healing properties of both crystals and herbs and the simple step-by-step instructions on how to incorporate them into one's daily life."
—Rosemary Gladstar, herbalist and bestselling author


"Ally has been a pioneer in the modern trend of crystallized herbal skincare."
—Yulia Van Doren, founder of Goldirocks and author of Crystals: The Modern Guide to Crystal Healing


"This book is chock-full of rituals to keep you grounded and seeing the magic and mystery of everyday life, from a woman with lots of experience."
—Lauren Haynes, herbalist and owner of Wooden Spoon Herbs


Herbalists concoct formulas on several levels. A good herbalist takes into account theproperties of the plant, the constitution of the patient, and her ownmotivations in conjoining plant with person to promote healing. This book helpsus develop ears to hear that which ranges beyond the ordinary. Take heed, and sing.
—Richo Cech, Owner of Strictly Medicinal Seeds and authorof Making Plant Medicine


"Ally has been working with the healing powers ofcrystals long before it was mainstream. She knows her stuff!"
—Leyna Allred, Owner of Urb Apothecary


"Herbs & Crystals DIY is the ultimate guide for the modern, D.I.Y. witch. Whether you're using the recipes to make your own green beauty products, cast spells, or just have a fun craft-ernoon with your friends, there are a million and one ways to use this beautiful and refreshing beauty book."
—Jade Taylor, Beauty Director at House of Intuition


"Ally Sands is a crystal and plant visionary of the 21st century. Her work provides the inspiration for future generations to come. She is the first gem infused apothecary on the scene and along with our natural beauty cooperative Plant Family, her voice speaks modern earth wisdom."
—Jes Morgan, Owner of Plant Makeup and Co-founder of Plant Family
Page Street Publishing, 9781624145216, 160pp.
Publication Date: April 17, 2018
About the Author
Ally Sands is the founder of Aquarian Soul, an organic brand of crystal-infused skincare and ritual bathing products. She is a master herbalist, aromatherapist and Reiki healer. Her company has been featured in Vogue, Women's Health, Allure, ELLE and many others. She lives in San Diego, California.