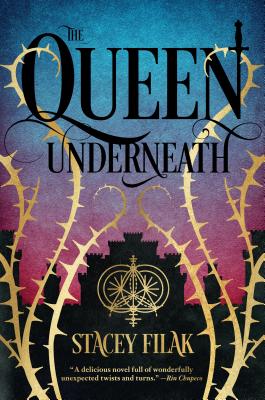 The Queen Underneath (Hardcover)
Page Street Kids, 9781624145605, 288pp.
Publication Date: May 8, 2018
* Individual store prices may vary.
Description
"A delicious novel full of wonderfully unexpected twists and turns where you can't help but root for plucky thief Gemma and fish-out-of-water prince Tollan. If you love court intrigues, political backstabbings, romance, and heartbreak, then read this book!" - Rin Chupeco


In a city on the brink of war, it isn't a king that the people need to save them—but a thief queen from Under.
Yigris is a world divided—where aristocrats in Above rule from grand palaces, and thieves, sex workers, and assassins reign in the shadowy tunnels of Under. When the leaders of Above and Under are both murdered on the same night, the fissure between the two opposite worlds grows and suspicion threatens to break the tenuous peace.
Gemma, a former orphan-thief and new queen of Under, and Tollan, heir to the Above throne, must salvage a truce to rescue the city. But they soon discover that the conflict is far bigger than two murders, as the city falls into an enchanted sleep and a cage of deadly brambles slowly ensnares the streets, buildings, and tunnels of both districts. With the fate of Yigris at stake, only Gemma and Tollan have the power to prevent another civil war from tearing their world apart forever.
About the Author
Stacey Filak lives in Michigan with her husband and four children, as well as a menagerie of pop-culture-named pets. She can be found haunting Twitter (@staceyfilak) when she's not busy crafting worlds, daydreaming about recipes she'll never make, or plotting her enemies' demise. The Queen Underneath is her first book.
Praise For The Queen Underneath…
"This is a fast-paced and fun first novel that gives readers an exciting new world to explore. An easy, gripping read for older readers."—Booklist

"A glorious celebration of female power"—Kirkus Reviews