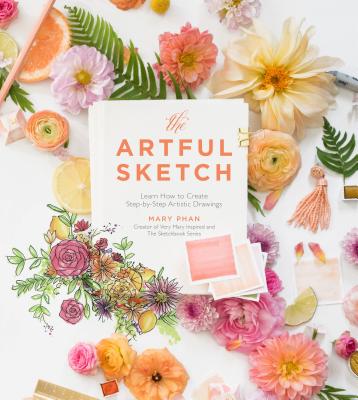 The Artful Sketch (Paperback)
Learn How to Create Step-by-Step Artistic Drawings
Page Street Publishing, 9781624146077, 160pp.
Publication Date: September 25, 2018
* Individual store prices may vary.
Description
Handmade Artwork to Inspire Your Creative Life
Take your love for hand lettering, coloring, and doodling to the next level with this easy guide to creating gorgeous sketches by hand. Artist Mary Phan has toured North America teaching luxury sketching workshops, and she now reveals her simple yet big-impact techniques for everyone— from beginners to experienced designers. You'll learn to draw 14 exquisite sketches, featuring fully illustrated, detailed step-by-step instructions to ensure a frame-worthy result from your very first sketch!
Follow along with Mary's simple, foolproof sketching process: drawing in basic shapes with a pencil and ruler, bringing the scene to life with brightly colored art markers, and outlining with black ink for the final details. From each tutorial, you'll have your own impressive work of art to share as a gift, send as a card, share on social media, use in your business, or display in your home. No matter how you use it, this book will give you the tools and inspiration to fill your life with more color, beauty, and creativity.
About the Author
MARY PHAN is an artist and the founder of Very Mary Inspired. As the creator of The Sketchbook Series, she has taught sketching workshops throughout North America. Mary has been featured in Utterly Engaged, The Knot, Style Me Pretty, Flutter Magazine, and many more publications. She lives in Northern California in the San Francisco Bay Area.
Praise For The Artful Sketch: Learn How to Create Step-by-Step Artistic Drawings…
"I have seen Mary take a room full of people who could barely draw a straight line (myself included) and give them the tools to sketch a reasonable facsimile of the subject. This book synthesizes her amazing technique for a very lucky broader audience."
—MARCY BLUM, author and celebrity event planner
"The Artful Sketch is the easiest way to learn to draw your ideas onto paper. With her beautiful examples and kind commentary, you'll soon be impressing yourself AND your friends with your new artistic talent!"
—CECI JOHNSON, designer and founder of Ceci New York and Ceci Style
"A must-read book for anyone who desires to be creative. You'll learn from the best!"
—LUCIA DINH PADOR, editor-in-chief of Utterly Engaged
"Mary is exactly what the beginner needs when embarking on a sketching journey. Her methods are clear, concise and created to ensure success! Mary's joyful style and color choices go a long way in inspiring the budding artist to pick up a pen and dive in."
—Kristy Rice, author, artist and founder Momental Designs
"Mary is the expert when it comes to teaching anyone how to sketch. She is an industry leader and her innovative style, brilliant techniques and approachable lessons will be just the thing that anyone looking to learn needs in their resource library."
—Sean Low, president, The Business of Being Creative LLC
"Mary has given us creatives the tools to learn how to share our art with our clients and illustrate all of the crazy ideas we have in our heads. I am not only excited for this book but the many to follow."
—Eliana Baucicault, publisher and editor of B Inspired Magazine, celebrity wedding planner
"Learning from Mary has really shown me how much value cake sketches can bring to my business. Her techniques have enabled my team to book more clients and find more exposure on social media. Now I provide my clients with professional, high quality sketches to set their mind at ease and give them confidence that their cake dreams will be brought to reality!"
—Jason Hisley, celebrity cake designer, owner & executive chef of Cake By Jason