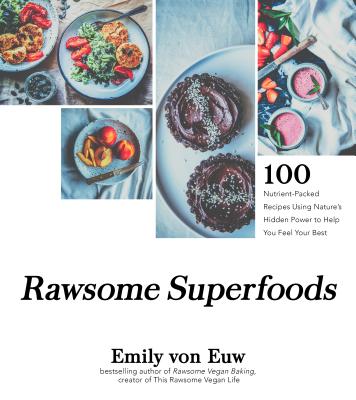 Rawsome Superfoods (Paperback)
100+ Nutrient-Packed Recipes Using Nature's Hidden Power to Help You Feel Your Best
Page Street Publishing, 9781624146275, 288pp.
Publication Date: December 18, 2018
* Individual store prices may vary.
Description
Nourish and Heal with the Delicious Power of Superfoods
Emily von Euw, bestselling author of the Rawsome cookbook series, is back with a comprehensive collection of over 100 delicious recipes to help you eat your way to wellness. Incorporate nutrient-rich superfoods into your diet with everyday staples like berries for antioxidants, cinnamon and turmeric for their anti-inflammatory benefits, and chia, acai and spirulina to improve energy and increase immunity—plus so much more!
With raw, soy-free and nut-free options, these approachable plant-based dishes will change the way you nourish yourself and your family. Garlicky Greens with Baked Sweet Potato, Pecans, Sesame Oil + Quinoa is quick to throw together and packed with vitamins A, K and C. The umami-rich Creamy Shiitake Mushroom Pasta with Kale delivers antioxidants and anti-cancer properties. To boost your spirits without the sugar crash, try a cup of Good Mood Hot Chocolate.
Full of invigorating juices, immune-boosting smoothies, flavor-packed dressings and satisfying mains, this book has everything you need to enjoy the benefits of superfoods in easy, everyday meals
About the Author
Emily Von Euw is a best-selling author and the creator of the vegan food blog This Rawsome Vegan Life. Her work has been mentioned by ELLE, VegNews Magazine, Well+Good Magazine, Shape and Buzzfeed. She has a strong following many Facebook likes and Instagram followers. Von Euw lives in Vancouver, Canada.