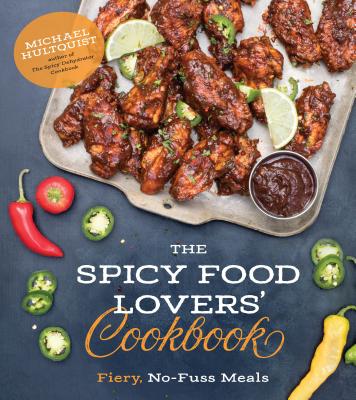 The Spicy Food Lovers' Cookbook
Fiery, No-Fuss Meals
Paperback

* Individual store prices may vary.
Description
Spice-Packed Dishes for Sizzling Flavor at Every Meal

Calling all chiliheads! Become a master of spice with these 75 easy recipes for big, bold flavor. Mike Hultquist, creator of the blog Chili Pepper Madness and author of The Spicy Dehydrator Cookbook, takes you head first into the wide world of all things spicy. Explore peppers, like poblanos, jalapeños and cayennes, along with spice blends, hot sauces and more. As you cook your way through exciting, spice-rich cuisines like Mexican, Italian and Indian, you'll discover how simple it is to layer pepper varieties and spices for incredible depth of flavor.

Learn how to achieve just the right amount of zing, whether mild, medium or sizzling. For a memorable meal that's low on heat, try Sweet-Chili Glazed Bacon-Wrapped Pork Tenderloin, which mixes sweet red pepper jam with your favorite hot sauce. Bring it up a notch with Shrimp in Fiery Chipotle-Tequila Sauce, which blends deep chipotle flavor with a kick of serrano pepper. If it's mouth-numbing spice you're after, go for the All-the-Way Arrabiata, a satisfying pasta dish amped up with pepper infused olive oil and whole ghost peppers. With stews for your slow cooker, burgers for the grill, and eggs for the skillet, it's easy to enjoy an amazing array of spicy dishes, all day, every day.
Praise For The Spicy Food Lovers' Cookbook: Fiery, No-Fuss Meals…
"This is the cutting-edge of hot and spicy culinary artistry, with innovative recipes set among excellent food styling and photography. It is a visual and delectable delight."
—Dave DeWitt, aka "The Pope of Peppers"

"Consider Michael Hultquist your new go-to for creative yet completely accessible recipes that traverse the spicy-food universe."
—Amanda Altman, managing editor of Chile Pepper magazine

"The Spicy Food Lovers' Cookbook is phenomenal! If you like some heat to your food, this is THE book to have on your shelf."
—Amanda Batcher, founder of The Chunky Chef

"Calling all chileheads out there—Mike delivers with his new book!"
—Kevin OLeary, founder of Kevin Is Cooking

"Michael is a master of incorporating fiery flavors into everyday and not-so-everyday dishes. His cuisine is not a hold-my-beer-and-watch-this style of presentation, but a deliciously spicy blend that a true Chilehead can appreciate."
—John Hard, founder of CaJohn's Fiery Foods and Hot Sauce Hall of Famer

"The Spicy Food Lovers' Cookbook is the ultimate culinary experience that teaches curious cooks how to add dimensions of flavor to everyday meals. Michael Hultquist is a spice expert, exciting the taste buds with each bold and fiery recipe."
—Jessica Gavin, Certified Culinary Scientist and author of Easy Culinary Science for Better Cooking

"Spicy food enthusiasts, rejoice! You now have a fiery food playbook dedicated to you. It doesn't matter if you are a novice or an endorphin addict in search for the next hottest dish, Michael has a recipe for you."
—Al "Buddah" Goldenberg, founder of I Love it Spicy

"Mike's passion for all things spicy pops off the page in his newest book, and it's jam-packed with delicious recipes! Whether you like the heat full-force or dialed back a bit, Mike shows you how to bring the heat to your kitchen."
—April Anderson, creator of Girl Gone Gourmet, author of Gourmet Cooking for One or Two

"Michael has an amazing ability to create beautifully delicious, spicy dishes while at the same time making them both inspiring and totally approachable for the everyday cook or the wild eyed Chilehead!"
—Jeremy Walsh, founder of Bigfat's Hot Sauce, Inc.

"The Spicy Food Lovers' Cookbook is a beautiful marriage of flavor and heat."
—Isabel Orozco-Moore, food blogger and photographer, Isabel Eat

"The Spicy Food Lovers' Cookbook elevates the flavor of both familiar and not-so-familiar dishes with the many varieties of that vegetable of extreme smack—the chili pepper."
—Kirsten K. Shockey, author of Fiery Ferments and Fermented Vegetables
Page Street Publishing, 9781624146398, 192pp.
Publication Date: October 16, 2018
About the Author
Michael Hultquist is the author of the The Spicy Dehydrator Cookbook and the founder of the blog Chili Pepper Madness. He lives in Lake in the Hills, Illinois.
or
Not Currently Available for Direct Purchase