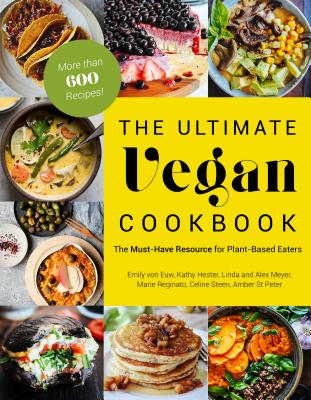 The Ultimate Vegan Cookbook (Paperback)
The Must-Have Resource for Plant-Based Eaters
Page Street Publishing, 9781624146411, 464pp.
Publication Date: October 23, 2018
* Individual store prices may vary.
Description
The Only Vegan Cookbook You'll Ever Need
Seven standout authors have joined forces to create this definitive vegan reference book. With more than 600 recipes, this indispensible kitchen staple is perfect for seasoned vegans looking to build their repertoires, cooks new to the basics of plant-based cuisine and curious meat-eaters on the hunt for new flavors. Gluten-free, soy-free and sugar-free options are included, and many recipes come together in 30 minutes or less. Offering unbeatable variety and covering everything from main dishes, sides, soups and salads to breakfasts, beverages, desserts and pantry staples, these experienced and creative vegan authorities have you covered.
About the Author
Emily von Euw, Kathy Hester, Linda and Alex Meyer, Marie Reginato, Celine Steen and Amber St. Peter are bestselling authors of healthy and delicious plant-based cookbooks. Their work has been featured not only on their own enthusiastically followed blogs but also in numerous magazine and newspaper articles, on food and health blogs, on restaurant menus and on websites such as PETA and BuzzFeed. They live across the U.S. and Canada.
Praise For The Ultimate Vegan Cookbook: The Must-Have Resource for Plant-Based Eaters…
"This eclectic collection of vegan recipes would make a great addition to any food lover's cookbook shelf. With more than 600 recipes from several talented authors, this book has something delicious for everybody to enjoy."
—Robin Robertson, bestselling author of The Vegan Planet, 1000 Vegan Recipes, Veganize It! and many more
"A mind-bogglingly huge collection of recipes with something for everyone—gluten-free, oil-free, air fryer aficionados and more—from the Mount Rushmore of vegan cookbook authors. It's a must-have for experienced vegans and plant-curious omnivores alike!"
—Natalie Slater, author of Bake and Destroy
"Packing just one cookbook for your desert island? This is the one. The Ultimate Vegan Cookbook is a veritable vegan buffet with many easy, thrifty options! This huge collection proves that vegan and variety go together."
—Linda Watson, creator of the blog Cook for Good