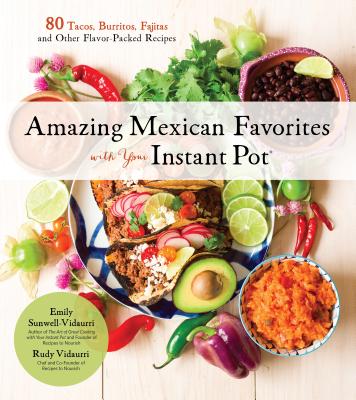 Amazing Mexican Favorites with Your Instant Pot (Paperback)
80 Tacos, Burritos, Fajitas and Other Flavor-Packed Recipes
Page Street Publishing, 9781624147098, 192pp.
Publication Date: January 15, 2019
* Individual store prices may vary.
Description
Delicious, Authentic Mexican Meals Made Better in Half the Time
Enjoy the flavors of Mexico at home with minimal effort and time by harnessing the power of your Instant Pot®. Simply toss meat, spices and veggies into the pot, and in a matter of minutes, you'll be sitting down to mouthwatering tacos, burritos, fajitas, tamales and more, packed with hearty fillings and your favorite toppings. Cookbook author Emily Sunwell-Vidaurri and her husband, chef Rudy Vidaurri, share 80 family recipes for making the most popular Mexican dishes the quick and easy way. With Rudy's deep-rooted Mexican heritage and Emily's experience as a busy mom and food blogger, this cookbook brings you the best of both worlds: authenticity and practicality. Use Shredded Chipotle Beef (Tinga de Res) for your new go-to weeknight tacos, Shepherd's-Style Pork (Al Pastor) for next-level burritos and Red Beef Chili (Chili Colorado) for crowd-pleasing nachos.
Each dish has the rich and vibrant flavors you love, streamlined for today's health-conscious home cook. All of the recipes are gluten-free, swapping heavy carbs and processed ingredients for real foods that will nourish your family. With such a huge selection of fantastic main dishes, plus soups, sides and desserts, every night can be a fiesta!
About the Author
Emily Sunwell-Vidaurri is the author of The Art of Great Cooking with Your Instant Pot® and the founder of the gluten-free cooking blog Recipes to Nourish. Rudy Vidaurri is a former chef and a nutritionist. He worked with Emily on her first cookbook and now contributes to her blog. They live with their children in Sacramento, California.
Praise For Amazing Mexican Favorites with Your Instant Pot: 80 Tacos, Burritos, Fajitas and Other Flavor-Packed Recipes…
"As a native Texan, I love that Emily's book brings back so many delicious memories of Mexican cooking while staying gluten-free for those of us who have to be cautious!"
—Jennifer Robins, bestselling author of Paleo Cooking with Your Instant Pot®
"Yes! All our favorite Mexican dishes (and then some) made quick and easy in the Instant Pot® with whole, real foods. I can't wait to try these recipes!"
—Wardee Harmon, founder of Traditional Cooking School
"In Amazing Mexican Favorites with Your Instant Pot®, you'll discover delicious, nutrient-dense recipes simple enough for even the busiest weeknight thanks to the magic of the Instant Pot® and Emily's expert guidance. The only trouble you'll have is deciding which recipe to make next!"
—Amy Love, nutritional therapist, founder of Real Food Whole Health
"I have been a fan of Instant Pot® cooking for ages, and I am always looking for new, easy recipes to try. Emily has outdone herself by creating such a gorgeous cookbook full of so many tasty recipes. Yum!"—Kristen Michaelis, author of Beautiful Babies and founder of Food Renegade
"Cooking with my Instant Pot® just got a lot more interesting! Both my husband and I are huge fans of Mexican food and with Emily's new book we can now bring the flavors of our favorite restaurant dishes into the comfort of our own kitchen (and keep everything gluten-free to boot)! If you're a fan of the Instant Pot, this is going to quickly become your new favorite cookbook." —Jessica Espinoza, founder of Delicious Obsessions
"THIS is the Instant Pot® cookbook that I have been waiting for and it does not disappoint! Knowing that every recipe is nourishing, easy-to-make, budget-friendly and kid-friendly makes this busy mama want to race to the kitchen and get cooking. If you love authentic Mexican food and want the ease of cooking with your Instant Pot®, then this cookbook needs to get into your kitchen!"—Jennifer Nitrio, founder of Hybrid Rasta Mama
"It's no secret that I love Latin American cuisine, and I love that Emily and Rudy have put together this stunning collection of authentic Mexican cuisine made using gluten-free, real food ingredients, done quickly and easily in the Instant Pot®! This cookbook is going to be one I reference often for flavorful, healthy meals when I don't have a lot of time to cook."— Amanda Torres, MS, author of Latin American Paleo Cooking, founder of The Curious Coconut
"Emily has created the most delicious guidebook to cooking Mexican food in your Instant Pot® that I've ever seen! These recipes fit perfectly into everyday family cooking!"—Kelly Bejelly, author of Paleo Eats, CEO of Easy Meal Prep Plans with 20 Dishes, founder of A Girl Worth Saving
"The Hearty, Rich and Elegant Meat & Seafood section alone makes this a book worth owning. These comfort food meats are impressive, perfectly spiced, yet easy to make in the Instant Pot®. Each recipe has cooks' notes and tips; you feel like you're learning from the experts! It's an enthralling cookbook, and one I'm going to use over and over again!" —Megan Stevens, founder of Eat Beautiful
"Amazing Mexican Favorites with Your Instant Pot is the perfect cookbook for those who enjoy authentic Mexican food but don't have a lot of time to spend in the kitchen. Emily and Rudy show you how to create your favorite Mexican dishes in a fraction of the time and, most importantly, without compromising on flavor."—Alea Milham, creator of Premeditatedleftovers.com and author of Prep-Ahead Meals from Scratch and Prep-Ahead Breakfasts and Lunches