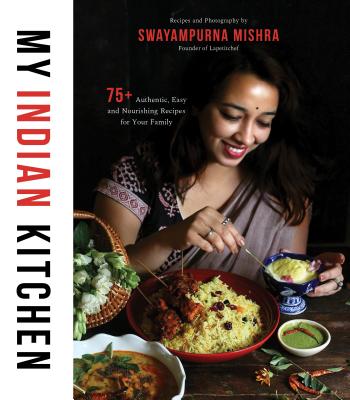 My Indian Kitchen (Paperback)
75+ Authentic, Easy and Nourishing Recipes for Your Family
Page Street Publishing, 9781624147272, 192pp.
Publication Date: January 15, 2019
* Individual store prices may vary.
Description
Vibrant Indian Cooking Made Simple

Enjoy your favorite Indian foods with faster cooking times, accessible ingredients and exciting flavors with this gorgeous, inspiring guide to modern Indian cuisine. Swayampurna Mishra, founder of Lapetitchef, invites you into her kitchen to share unforgettable meals made convenient for today's busy home cook. With her poignant writing and lush photography, this cookbook will have you swooning over each page—soon you'll be filling your home with the comforting aromas of warm, rich spices and fragrant simmering sauces.
Master classics like Chicken Dum Biriyani, with irresistibly tender meat. Enjoy Coconut & Sesame–Crusted Shrimp for a quick, crowd-pleasing dish, and put on a pot of Creamy Black Lentils for an indulgent yet easy weeknight meal. Ma's Lamb Curry, the pinnacle of Indian soul food, is simple to prepare in your slow cooker—perfect for busy families. Discover the magic of Masala-Stuffed Flatbread and an array of surprisingly easy, charming sweet treats. This book will engage your senses and delight your palate with delicious Indian dishes that celebrate the simple joys of food and family.
About the Author
Swayampurna Mishra is the creator of the Indian food blog Lapetitchef. Her work has been featured by Better Homes and Gardens, Thrive Magazine, Buzzfeed, Huffington Post, Times of India, Hindustan Times, Femina magazine, Food & Wine India magazine, Indian Express and The Hindu. She is a brand ambassador for Jamie Oliver and an editor for FeedFeed. She lives in India.
Praise For My Indian Kitchen: 75+ Authentic, Easy and Nourishing Recipes for Your Family…
"In this book, you'll find a mouth-watering collection of simple and quick recipes that suit a fast-paced lifestyle, but also ones that find the magic in the ordinary. A book for all occasions, moods and celebrations… and one I know you will continue to learn from, love and trust."
—from the foreword, written by Amandip Uppal, writer, supper club host and author of Indian Made Easy
"With this collection of daily stories and age-old wisdom, Swayam has created a visual feast infused with delicious warmth and vibrant recipes. This is the food I absolutely want to cook in my kitchen for my family!"
—Sneh Roy, author of Tasty Express, creator of the award-winning blog Cook Republic
"Swayam's poignant voice is the backdrop for this rich collection of recipes. I can't wait to cook my way through every beautiful recipe, starting with the coconut handpies!"
—Rebecca Firth, author of The Cookie Book, creator of Displaced Housewife
"Boldly but judiciously flavored with exciting spices, Swayam's dishes appear familiar and exotic at the same time—the very best kind of cooking. I cannot wait to cook and eat everything in this beautiful book."
—Helen Goh, co-author of Sweet, product developer at Ottolenghi
"These simple yet intensely flavorful recipes … are a treasure and a treat for anyone to cook."
—Vicky Ratnani, celebrity chef, author of Vicky Goes Veg
"Swayampurna's unique ability to mix bold Indian flavors and creative ingredients shines through in her beautiful cookbook."
—Chitra Agrawal, owner of Brooklyn Delhi, author of Vibrant India
"Swayam's energy is the essence of what makes cooking so great."
—Sara Oteri, MasterChef Australia finalist
"I love a cookbook that can be as enticing as it is accessible. Finding the balance between the two is an art, and Swayam masters it. My Indian Kitchen is my go-to book for delicious Indian recipes."
—Nargisse Benkabbou, author of Casablanca.
"The recipes here are incredibly appealing to people of all genres. Easy dishes, a few slow cooked luxurious meals, decadent desserts and wholesome nourishing food for the entire family are what this beauty of a book is all about."
—Chef Ashish Bhasin, executive chef at Leela, Gurgaon.
"We love Indian cuisine, and Swayampurna makes it easy and approachable. From tasty appetizers to vibrant desserts, she reveals the secrets of authentic Indian dishes, and she is a friendly, helpful guide into the world of Indian cooking!"
—Ryan Alvarez and Adam Merrin, authors of Husbands That Cook
"Reading Swayampurna's book feels like cooking with her and listening to her enchanting stories while making a delicious meal using fresh and homey ingredients and aromatic spices. Simple yet magical, this cookbook is one that every home needs."
—Shadi HasanzadeNemati, author of The Enchantingly Easy Persian Cookbook, founder of Unicorns in the Kitchen
"With Swayam's recipes and personal stories as your guide, you will discover a wide range of approachable and delicious recipes. Her book will make you forget take out, and you'll be cooking Indian food at home instead."
—Deborah Balint, founder of Rainy Day Bites and host of the Cookbook Club on Instagram
"Swayam has captured the heart of India in her cookbook. The recipes are important family heirlooms, which are so very comforting and delicious. They will keep you cooking day after day wanting more. Simply beautiful."
—Joudie Kalla, author of the bestselling cookbook Palestine on a Plate