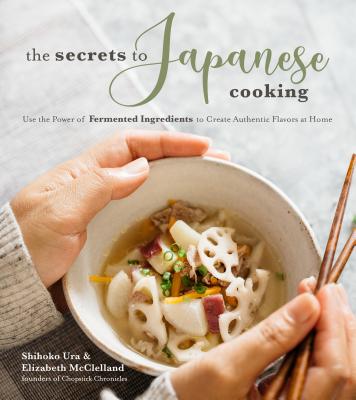 The Secrets to Japanese Cooking (Paperback)
Use the Power of Fermented Ingredients to Create Authentic Flavors at Home
Page Street Publishing, 9781624147838, 176pp.
Publication Date: May 21, 2019
* Individual store prices may vary.
Description
Make Traditional & Contemporary Japanese Dishes with Powerful, Umami-Rich Flavor

Mother and daughter Shihoko Ura and Elizabeth McClelland, founders of the blog Chopstick Chronicles, reveal the key to amazing Japanese cooking—fermenting your own miso, amazake and more.

Sweet, salty, tangy and rich, these ingredients add subtle layers of flavor to dishes like Ultimate Miso Ramen, Vibrant Rainbow Roll Sushi and Japanese Curry with Summer Vegetables and Natto. It's easy to enjoy the health benefits of fermented foods, known for aiding digestion and boosting the immune system, with fun recipes like Amazake Bubble Tea and Super Simple Shio Koji–Pickled Cucumbers.

This book makes achieving Japanese flavors so simple, these fermented ingredients will quickly become staples in your pantry. From multicourse dinners to sweet-salty desserts and refreshing drinks, find out what elevates everyday Japanese dishes to unforgettable classics.
About the Author
Shihoko Ura and her daughter Elizabeth McClelland are the founders of Chopstick Chronicles. Shihoko is the cook and photographer behind the blog, and Elizabeth is the writer and editor. Born and raised in Wakayama, Japan, Shihoko relocated to Australia where she discovered her passion for sharing Japanese recipes. Elizabeth learned Japanese cooking from her mother, and both enjoy using fermented ingredients in their cooking every day. They live in Brisbane, Australia.
Praise For The Secrets to Japanese Cooking: Use the Power of Fermented Ingredients to Create Authentic Flavors at Home…
"Fermented foods play an integral part in the Japanese pantry, and in their debut book, the pair behind Chopstick Chronicles explores the funky flavorful world of fermented foods through tantalizing recipes and stunning photography."
-Marc Matsumoto, chef, TV host and founder of NoRecipes.com

"Japanese food for everyday home cooks, with recipes that will make your taste buds sing!"
-Nagi Maehashi, creator of RecipeTin Eats

"This collection of dishes not only brings you back to the roots of Japanese cuisine, but also introduces you to modern Japanese home cooking."
-Yumiko Maehashi, creator of RecipeTin Japan