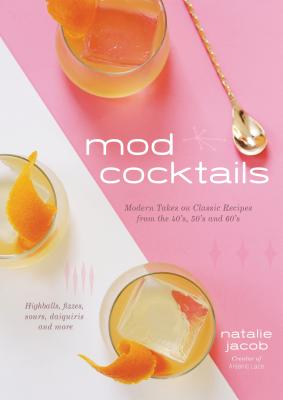 Mod Cocktails (Hardcover)
Modern Takes on Classic Recipes from the '40s, '50s and '60s
Page Street Publishing, 9781624148293, 192pp.
Publication Date: November 5, 2019
* Individual store prices may vary.
Description
Shake, Stir and Blend Tasty Cocktails Inspired by the Chic Midcentury Era
From seasoned New York City bartender Natalie Jacob, founder of the blog Arsenic Lace, comes timeless cocktail recipes from the '40s, '50s and '60s, revamped with delightful contemporary flourishes. These unique recipes perfect midcentury and tiki-bar classics, while sprinkling in Natalie's cutting-edge twists to create heavenly cocktails that marry new and nostalgic flavors. Whether you're new to bartending, a seasoned professional or simply looking to tap into that swanky midcentury aesthetic, Natalie's easy instructions and fresh ideas are the perfect guide to your mixology journey.
About the Author
Natalie Jacob is a bartender, cocktail connoisseur and the creator of Arsenic Lace, a drink and lifestyle blog. Her recipes have been featured in The Village Voice, Time Out New York, Edible Magazine and more. Natalie lives in Jersey City, New Jersey.
Praise For Mod Cocktails: Modern Takes on Classic Recipes from the '40s, '50s and '60s…
"Natalie Jacob has consistently conjured the finest cocktails behind some of the most lauded bars in recent history, and she remains an unrivaled force in the arena to this day."
—Richard Boccato, owner of Dutch Kills, NYC
"This book is sure to inspire! If you only have one cocktail book in your house, this should be the one."
—Emma Chapman and Elsie Larson, founders of A Beautiful Mess
"Mod Cocktails is the new must-have bartending book for the home mixologist! Natalie Jacob is an extraordinarily talented bartender and mixologist whose cocktails not only taste amazing, but look fantastic. In this book, you will learn everything you need to know to craft beautiful, innovative drinks for any occasion."
—Julie Reiner, author of The Craft Cocktail Party and owner of Clover Club