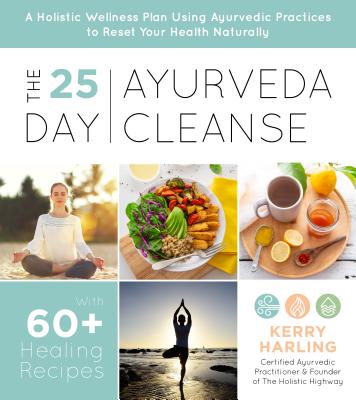 The 25-Day Ayurveda Cleanse
A Holistic Wellness Plan Using Ayurvedic Practices to Reset Your Health Naturally
Paperback

* Individual store prices may vary.
Description
A Practical Introduction to the Life-Changing Power of AYURVEDA

Transform yourself and kick unhealthy habits to the curb once and for all with a cleanse based on the ancient wisdom of Ayurveda. Using food as medicine, certified Ayurveda practitioner Kerry Harling will help you get to the root causes of ill health and bring your body, mind and spirit into balance. Ayurveda works because it's not a diet; it's a holistic approach to living that's tailored to your "dosha," or unique metabolic type. Kerry's 25-day cleanse is perfect for those new to Ayurveda because it is broken down into three distinct, easy-to-follow phases with more than 60 delicious recipes.

The first phase clears out your digestion, ridding your body of toxins that lead to illness and lethargy. In the second phase, healing foods and daily practices ignite your digestive fire, transforming your physical and emotional health. In the third phase, you'll reintroduce foods based on your individual needs and learn how to maintain this new lifestyle. Each phase has a day-by-day schedule, an illustrated yoga sequence, a guided meditation, pranayama (breathwork) and journal prompts to support your journey.

Rather than counting calories or determining ratios of macronutrients in a one-size- fits-all approach, you'll receive guidance with the freedom to customize the plan that feels right to you. You'll also learn to prepare nourishing and delicious meals with beautifully photographed recipes, such as Pumpkin Saffron Soup, Cooling Coconut Curry Soup and Sesame Ginger Salmon Salad. With Kerry guiding the way, you can achieve long-lasting wellness that brings your body, mind and spirit into complete harmony within 25 days. You'll emerge on the other side rejuvenated, glowing with vitality from the inside out.
Praise For The 25-Day Ayurveda Cleanse: A Holistic Wellness Plan Using Ayurvedic Practices to Reset Your Health Naturally…
"The ancient Ayurvedic teachings give us the guidelines regarding cleansing, detoxification programs and palliation therapies to calm down the dosha in situ, in its anatomical position. Kerry Harling's book will guide your cleansing plan through special yoga practices, breathing techniques, diet, and lifestyle. Cleansing, based upon the principals of Ayurveda as shown in this beautiful book, supports a long, happy, healthy, and peaceful life."
- Vasant Lad, BAM&S, MASc, Ayurvedic Physician, author of Ayurveda: Science of Self- Healing, Textbook of Ayurveda Series and more


"Kerry Harling has written a must-read primer for anyone considering Ayurveda or interested in improving their overall health naturally. Read this book and learn from one of the best."
—STACEY CHILLEMI, author of The Complete Guide to Natural Healingand founder of The Complete Herbal Guide


"Ayurvedic cleansing as described in The 25-Day Ayurveda Cleanse understands the importance of gentle but effective cleansing."
—DR. JOHN DOUILLARD, DC, CAP, bestselling author and founder of LifeSpa


"What you have here is a book that provides tools and recipes to live a balanced life. Even if you don't want to "cleanse" you can use this as a guide to balanced living."
- Erin Casperson, Dean, Kripalu School of Ayurveda


"Kerry Harling is a breath of fresh air. It's impossible to be in the room with her for an hour without walking out feeling restored, motivated, and empowered. She tells us that one doesn't choose Ayurveda, Ayurveda chooses you. I'm grateful that Ayurveda chose Kerry Harling and grateful to Kerry for the work she does individually, in classes, and through her writing and speaking."
- Ronald Glick, MD, Medical Director— Center for Integrative Medicine at UPMC Shadyside
Page Street Publishing, 9781624148354, 224pp.
Publication Date: May 28, 2019
About the Author
KERRY HARLING is a certified Ayurveda practitioner and CEO of Holistic Highway. She also has a practice at the University of Pittsburgh's Center for Integrative Medicine, runs the Ayurveda Sanctuary, is a registered practitioner with the National Ayurveda Medical Association (NAMA) and is a certified yoga teacher. She lives in Harrisburg, Pennsylvania.
or
Not Currently Available for Direct Purchase