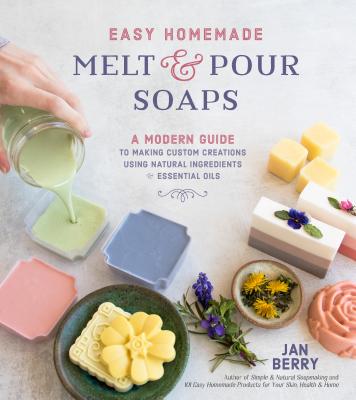 Easy Homemade Melt and Pour Soaps
A Modern Guide to Making Custom Creations Using Natural Ingredients & Essential Oils
Paperback

* Individual store prices may vary.
Description
Create Beautiful Herbal Soaps The Safe, Easy & Fast Way

Feel good about pampering yourself with these artisanal soaps featuring natural botanicals, colorants and exfoliants. This comprehensive, beginner-friendly guide to melt-and-pour soapmaking from Jan Berry, author of Simple & Natural Soapmaking, includes 50 inspiring recipes plus design tutorials and a stunning natural colorant gallery. Her method is incredibly easy; all you need to do is melt your soap base, infuse it with healing herbs or flowers, add essential oils and natural colorants, and pour it into a beautiful mold. As soon as your soap is dry, it's ready to use!

This method is a safe soapmaking technique that doesn't require handling lye. Plus, because it's so simple, many projects make for excellent family-friendly crafts. Kids will love helping out with simple soaps like Sunflower Sunshine Bars or playing with Aromatherapy Soap Dough. As you work through the projects, Jan leads you through a variety of techniques step by step. From simple herbal infusions in Wildflower Honey Soap to advanced methods of layering and swirling as in the Ocean Waves Soap, there's always another project to excite beginner and advanced soapmakers alike. Here, you'll find all the information and inspiration you need to make soaps that are gentle on your skin and fun to make!

Expand your herbal product collection with these other books in Jan Berry's bestselling series:
- Simple & Natural Soapmaking
- The Big Book of Homemade Products for Your Skin, Health & Home (coming April 2020, available for pre-order now)
Praise For Easy Homemade Melt and Pour Soaps: A Modern Guide to Making Custom Creations Using Natural Ingredients & Essential Oils…
"A must-read for every melt-and-pour soapmaker, Jan's new book is filled with soapmaking tips, no-fail recipes and stunning photos to help guarantee your success. You'll feel like a soapmaking pro from the start!"
—Rebecca Dillon, founder of Soap Deli News Blog

"Jan Berry does it again, offering easier- than-ever instructions for soapmaking at home. Pairing the ease of melt-and-pour soap bases with all natural ingredients, she shows readers how to craft beautiful bars perfect for gift giving."
—Kris Bordessa, author of Attainable Sustainable: The Lost Art of Self-Reliant Living

"Jan Berry's new book removes the mystery and complexity of soapmaking and focuses on the fun, creative part. You'll be making flawless soap immediately."
—Chris Dalziel, founder of the DIY Herbal Fellowship and author of Beeswax Workshop

"Jan Berry is like the da Vinci of soap making—they're gorgeous! I want to make every single one. Let's just say, you'll be hoping to be on my Christmas list once I get into all the projects of Easy Homemade Melt & Pour Soaps!"
—Tessa Zundel, founder of Homestead Lady and author of The Do It Yourself Homestead

"Jan has a gift for taking something as ordinary and everyday as soap, and turning it into works of art. With melt and pour soap, she's made it really simple for you to craft your own beautiful soaps at home!"
—Ashley Adamant, founder of Practical Self Reliance

"Jan Berry's latest book helps you craft extraordinary bar soap, liquid soap, bath bombs and more from simple melt and pour base. Create on my friends!"
—Janet Garman, founder of Timber Creek Farm, author of The Good Living Guide to Keeping Sheep and Other Fiber Animals

"Jan Berry has once again written an herbal body care book that both beginners and experienced soap makers will enjoy. This is a must have book for those who are interested in natural soap making."
—Angi Schneider, founder of Schneider Peeps

"In Easy Homemade Melt and Pour Soaps, Jan Berry offers readers 50 inspiring recipes for gorgeous homemade soaps. Her tutorials on using natural colorants and additions like flower petals, herbs, and exfoliants give soap-makers no end of beautiful options to choose from."
—Susannah Shmurak, founder of Healthy Green Savvy
Page Street Publishing, 9781624148743, 192pp.
Publication Date: November 19, 2019
About the Author
Jan Berry is the soapmaker and herbalist behind The Nerdy Farm Wife. She is also the author of Simple & Natural Soapmaking and 101 Easy Homemade Products for Your Skin, Health & Home. She lives in the Blue Ridge Mountains with her family.