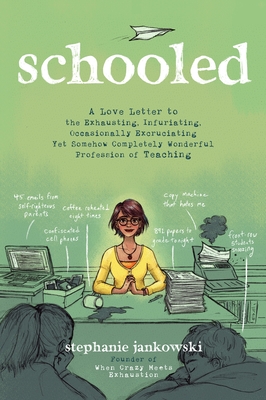 Schooled
A Love Letter to the Exhausting, Infuriating, Occasionally Excruciating Yet Somehow Completely Wonderful Profession of Teaching
Paperback

* Individual store prices may vary.
Description
Is It Possible to Love and Hate a Job at the Same Time?

In these hilariously frank essays, high school English instructor and popular parenting blogger Stephanie Jankowski throws open the classroom door to the victories, challenges and WTF-moments that make up being a teacher today— picture way less apples, and way more confiscated cell phones.

Anyone in education or who deals with kids for a living will laugh and commiserate with Steph's no-holds-barred commentary on lighthearted subjects such as being mistaken for a high schooler as a first-year teacher, accidentally saying the "c-word" in front of an assembly and navigating tricky student questions like "Are Trojan condoms named after those soldiers in the Odyssey?". You'll also nod along as she tackles more serious topics like race and education, the death of a student and teaching with empathy.

Required reading for every passionate, dedicated educator who's felt like banging their head against the blackboard, Schooled shouts: "I see you, fellow teacher…and you're not alone."
Praise For Schooled: A Love Letter to the Exhausting, Infuriating, Occasionally Excruciating Yet Somehow Completely Wonderful Profession of Teaching…
"Jankowski has a great way of showing what it's really like to be a teacher. F'ing hard. But f'ing awesome."
— Karen Alpert, New York Times bestselling author of I Heart My Little A-Holes

"I've always said mothers have the hardest job, but after reading Schooled, I want to change my answer. Through humor, heart, and a hint of inappropriate honesty, Jankowski has written a love letter to her profession and given the rest of us a glimpse of the toughest job in the world."
—Jen Mann, New York Times bestselling author of People I Want to Punch in the Throat

"Teachers: If you've ever been mistaken for a student, wondered why you're still doing it or caught a student acting like a jackass at your expense, this is your book."
—Clint Edwards, bestselling author of I'm Sorry…Love, Your Husband and Silence is a Scary Sound

"Schooled is a beautifully written love-letter to both students and educators. This is one of the best books about education I've read. I can't wait to give it to every teacher and administrator I know."
—Julianna Miner, author of Raising a Screensmart Kid, blogger at Rants From Mommyland

"Stephanie's writing is smart, witty, well-informed, brave and compassionate."
—Janelle Hanchett, author of I'm Just Happy to Be Here

"Stephanie Jankowski breathes life into situations many of us have experienced and takes us on her journey through insight and humor. You owe it to yourself to read this book."
—Tif Mulally, Ph.D. Assistant Professor at Misericordia University

"Jankowski's humor and sense of the absurd show that she knows how to hold the good and bad without letting the bad make her bitter. THAT is a gift."
—Nicole Knepper, MA, LCPC, author of Moms Who Drink and Swear

"Whether you need a laugh, a dose of inspiration, or just comfort in the fact that another teacher 'gets it,' Schooled is a wonderful teacher read."
—Hannah Hudson, WeAreTeachers Editorial Director

"Jankowski harnesses humor and humility in this delightfully honest compilation of essays. Long known as the shapers of the future and of our children, Jankowski proves that teachers also possess as much wit as they do wisdom."
—Elly Lonon, author of Amongst the Liberal Elite

"Forget apples or another coffee mug, Stephanie Jankowski's hilarious, honest and heartwarming Schooled makes the perfect teacher appreciation gift."
—Ann Imig, founder of Listen to Your Mother
Page Street Publishing, 9781624148767, 224pp.
Publication Date: December 17, 2019
About the Author
Stephanie Jankowski is the founder of popular parenting and teaching blog When Crazy Meets Exhaustion. A former public school teacher, she is currently a virtual high school English instructor. Her writing is featured on sites such as We Are Teachers, Scary Mommy, BlogHer, Huffington Post and Mamapedia. She lives in Pittsburgh, Pennsylvania.