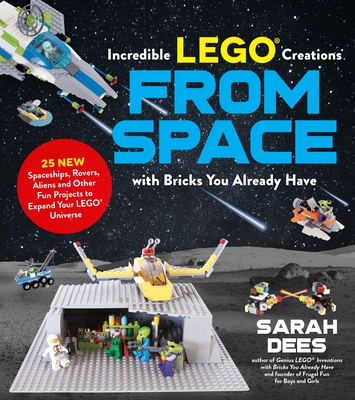 Incredible LEGO® Creations from Space with Bricks You Already Have
25 New Spaceships, Rovers, Aliens and Other Fun Projects to Expand Your LEGO Universe
Paperback

* Individual store prices may vary.
Description
3, 2, 1 . . . Blastoff To Your Next LEGO® Space Adventure!

Turn your bucket of LEGO® bricks into fun new space expeditions—complete with epic spaceships, kooky aliens and cool vehicles! Bestselling author and unmatched LEGO® mastermind Sarah Dees is back with 25 new, out-of-this-world projects to launch playtime to a whole new level.

Every amazing LEGO® creation in this book is assembled from bricks you already own, and comes with step-by-step instructions, detailed picture guides and helpful parts lists. While building your epic LEGO® landscapes, get to know the fun adventure stories that go along with them. Each chapter has a lovable, rag-tag team of fearless space explorers, daring astronauts, smart scientists and dangerous aliens to explore and travel with. Fly the Galaxy 10 Space Shuttle and help Captain Cal Galvian get safely to Planet Plexar. Man the Police Cruiser Space Jail with officers Carlos and Astrid. Build a whole Space Station, complete with a Flight Simulator, a Weightlessness Trainer and a Rocket Launch Pad to prepare future astronauts Garrett and Levi for liftoff.

Don't just build endless, incredible galaxies—customize them! Upgrade your speedy Sky Hawk Cruiser with a fresh green coat. Give your Cragulon Aliens a makeover with crazy purple heads. These unique projects will guide you through the magic and wonder of the universe, so you can discover a whole new world of fun at your fingertips.

Collect the whole series with Sarah Dees' other bestselling LEGO books:
- The Big Book of LEGO Creations with Bricks You Already Have
- Awesome LEGO Creations with Bricks You Already Have
- Genius LEGO Inventions with Bricks You Already Have
- Epic LEGO Adventures with Bricks You Already Have
Praise For Incredible LEGO® Creations from Space with Bricks You Already Have: 25 New Spaceships, Rovers, Aliens and Other Fun Projects to Expand Your LEGO Universe…
"An absolute 'must' for dedicated LEGO fans, Incredible LEGO Creations from Space with Bricks You Already Have is unreservedly recommended and will provide endless hours of pure LEGO fun and creativity!"
—Midwest Book Review

"LEGO® fans are going to love Sarah Dees' latest book of inventions! Not only do you get lots of great spaceship designs, but also many more makes that go way beyond your regular spaceship."
—Maggy Woodley, creator of Red Ted Art and author of Easy Paper Projects

"If you have a young astronaut at home, this book is sure to inspire!"
—Ana Dziengel, creator of Babble Dabble Do and author of STEAM Play & Learn

"A must-have for LEGO® maniacs who love outer-space adventure! We love the short adventure stories! They're fun to read, and they inspire my kids to use their own imaginations with their newly-built creations."
—Jackie Currie, creator of Happy Hooligans

"Sarah creates fun LEGO® projects that kids will enjoy making. I love that you can use bricks you already have to build your own space adventure!"
—Kimberly MacLeod, Creator of The Best Ideas for Kids and author of Fun and Easy Crafting with Recycled Materials

"As a mom of several LEGO® fans, I am very excited about Sarah's new book! We have enjoyed her previous books so much, and this next one looks incredible. Sarah's books never fail to provide fresh inspiration and excitement for my kids to create using their stash of LEGO® bricks. The pictures and projects in this new space book are perfect, and I am certain they will lead to countless adventures and hours of creativity, not to mention learning!"
—Lisa Burns, creator of This Pilgrim Life
Page Street Publishing, 9781624149108, 160pp.
Publication Date: November 26, 2019
About the Author
Sarah Dees is the bestselling author of Awesome LEGO® Creations with Bricks You Already Have, Epic LEGO® Adventures with Bricks You Already Have and Genius LEGO® Inventions with Bricks You Already Have. She is also the founder of the kid's activity blog Frugal Fun for Boys and Girls. Sarah and her family of five LEGO®-loving kids live in Fort Worth, Texas.
or
Not Currently Available for Direct Purchase