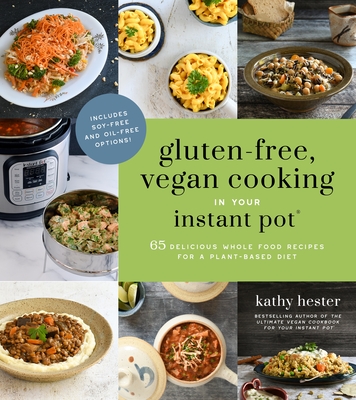 Gluten-Free, Vegan Cooking in Your Instant Pot® (Paperback)
65 Delicious Whole Food Recipes for a Plant-Based Diet
Page Street Publishing, 9781624149467, 192pp.
Publication Date: February 25, 2020
* Individual store prices may vary.
Description
Healthy Meals That Taste as Good as They Make You Feel
Kathy Hester, bestselling author of The Ultimate Vegan Cookbook for Your Instant Pot®, brings her signature simple style to this exciting new vegan recipe collection. From Chickpeas and Dumplings to The Easiest Vegan Mac and Cheese to Onion and Molasses Baked Beans and even Almond Berry Cake, each delectable recipe is made from whole foods and is not only plant-based and gluten-free but also soy-free, refined sugar-free and has low or no salt. This cookbook makes it easy to prepare amazing meals that are truly good for you!
With these wholesome Instant Pot® recipes, you can have all the developed flavor of low and slow cooking in half the time with meals like Jackfruit White Bean Chili and Veggie Hunter's Lentil Quinoa Stew. You can even prepare kitchen staples tailored to your dietary needs with recipes like Easy DIY Yogurt without Soy!, No-Oil Vegan Corn Butter and Oil-Free Chickpea Sliceable Cheese. So whether you're a full-time vegan, gluten-intolerant or just looking to make healthier choices, this book has something for everyone.
About the Author
Kathy Hester is the bestselling author of The Ultimate Vegan Cookbook for Your Instant Pot®, Vegan Cooking in Your Air Fryer, The Easy Vegan Cookbook and The Great Vegan Bean Book. She's the blogger behind HealthySlowCooking.com and her recipes have been featured by The Washington Post, The Oregonian and The Kitchn. She lives in Durham, North Carolina.
Praise For Gluten-Free, Vegan Cooking in Your Instant Pot®: 65 Delicious Whole Food Recipes for a Plant-Based Diet…
"Kathy has made it very clear that becoming vegan and following a gluten-free diet is not that hard. This is a must-have book in your kitchen."
—Srividhya Manikandan, author of The Essential South Indian Cookbook
"Whether you're an Instant Pot® pro, or you haven't even taken yours out of the box yet, you'll find tons of exciting ideas in Kathy's latest book."
—Natalie Slater, creator of Bake and Destroy
"Kathy Hester is a plant-based foodie queen who is changing hearts, minds and health one recipe at a time!"
—Kim Campbell, author of The PlantPure Nation Cookbook
"Kathy Hester should be called 'Kathy Potter' because she is truly a wizard in the kitchen."
—Chef AJ, author of the bestselling book The Secrets To Ultimate Weight Loss
"Kathy's books are the ones stacked on the counter, stain-filled and dog-eared. You will use this book all the time!"
—Howard Jacobson, creator of Plant Yourself
"This book is filled with amazing recipes you'd never imagine could be made so easily and quickly. This is one book you'll need in your kitchen!"
—Sophia DeSantis, author of Vegan Burgers & Burritos
"Kathy Hester has done it again with this richly rewarding collection of global dishes and homey favorites. You'll find recipes that are comforting and easy, with Kathy's unique 'wow factor' in each and every one."
—Nava Atlas, author of 5-Ingredient Vegan and Wild About Greens