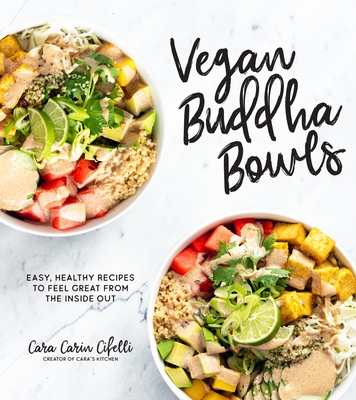 Vegan Buddha Bowls
Easy, Healthy Recipes to Feel Great from the Inside Out
Paperback

* Individual store prices may vary.
Description
Simple Plant–Based Bowls to Nourish Your Body and Soul

Cara Carin Cifelli makes it easy to turn fresh, unprocessed ingredients into grain bowls, salads, pasta bowls and soups that fuel your body and spirit for complete holistic health. Each recipe has the perfect balance of rich flavors, varied textures and healing ingredients, all cozied up together in a comforting bowl. Every bite will have your taste buds doing a happy dance! Not to mention your body will feel light, fresh and full of energy.

Each chapter focuses on a different base for your Buddha bowl, so it's easy to meal prep a big batch of wholesome grains to mix and match your meals throughout the week. From the Good Karma Bowl, Tropical Poke Bowls and Jicama Nacho Bowl to the "Cheezy" Butternut & Pesto Pasta and The Best Damn Taco Salad, these vibrant, nourishing recipes are sure to help you on your health journey, whether you're just beginning to heal your body with plant-based meals or are building upon a foundation of healthy eating. With this cookbook, you can always count on finding inspired, nutrient-rich meals that taste delicious and make you feel your best.
Praise For Vegan Buddha Bowls: Easy, Healthy Recipes to Feel Great from the Inside Out…
"Vegan Buddha Bowls is everything you want in a cookbook and more. It's filled with nourishment, colors and unique concepts to fill your kitchen and bellies with joy. Bringing approachable recipes to the forefront of the food scene is so important, and Cara has done just that."
—Maria Koutsogiannis, founder of Food by Maria, author of Mindful Vegan Meals

"This cookbook is an absolute game changer—not only are the recipes quick to whip up, but they leave my body feeling GOOD. And the best part is, all of Cara's recipes are delicious. Because a meal has to be nourishing for the soul, too—ya know?"
—Ali Bonar, @avokween, founder of Kween Foods

"Cara has written a delightful cookbook full of recipes that are nourishing AND delicious, for those of us who want to create simple meals without complicated ingredients and spending hours in the kitchen. This book will lovingly remain on my kitchen counter with stains to mark my favorite recipes that I have cooked again and again."
—Molly Alliman, health coach, founder of Balance by Molly

"Cara has completely changed my view on food for the better. She challenges diet culture head-on, helping us heal our relationships with food while also offering up creative, colorful and nourishing recipes for the body and soul. Cara is a true artist, using food as her medium to share her gift with the world."
—Ingrid Nilsen, @ingridnilsen, YouTube personality

"Cara's cooking comes straight from the heart with love. As someone who's been fortunate enough to experience her food myself, I can only say this: you're gonna want to try these recipes. All of them. Don't ask questions. Just trust me."
—Carrie Dayton, @daytoncarrie, YouTube personality

"Vegan Buddha Bowls is exactly the cookbook I've been looking for years! Not only is it aesthetically beautiful (an eye catching addition to my kitchen counter—and an excellent "plant-based eatings is easy and fun!" conversation starter), but also the recipes are the perfect combination of full-bodied flavor and wholesome nutrition. I feel perfectly satisfied and nourished after one of Cara's recipes!"
—Brandilyn Tebo, @brandilyn_tebo, co-founder of The Shift Retreats

"Cara is quite the wonder woman, healing ladies' bodies and minds through her incredible coaching, but what I wish for everyone to get to experience is her incredible healing cuisine! I am one of the lucky ones who have had the opportunity to taste her fresh glowy goodness, and oh baby. I cannot wait to try every recipe. Everything Cara prepares is beyond restaurant-worthy and her food actually makes you feel good too."
—Katie Raines, @vitamin.katie, vegan dietician

"Cara has a way of making simple foods tasty and beautiful. Her bowls are balanced but still filled with interesting flavors, and the ingredients are likely foods you would already buy at the grocery store. When I'm craving a big bowl of plant-based goodness, these bowls will be my go-to!"
—Carina Wolf, creator of Kale Me Maybe
Page Street Publishing, 9781624149481, 160pp.
Publication Date: January 28, 2020
About the Author
Cara Carin Cifelli is the creator of Cara's Kitchen. She is a holistic health coach and the voice behind the Love Your Bod Pod podcast. She lives in Los Angeles, California.