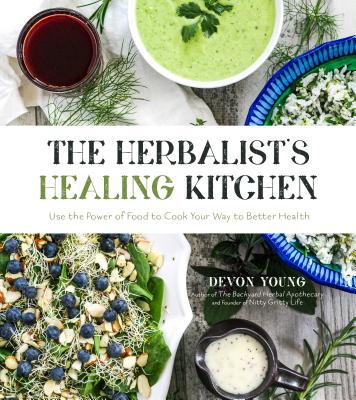 The Herbalist's Healing Kitchen
Use the Power of Food to Cook Your Way to Better Health
Paperback

* Individual store prices may vary.
Description
75 Nourishing Recipes That Heal Ailments, Boost Energy and Fortify Your Immune System


The secrets to better health can be found in a surprising place: your kitchen. Trained herbalist Devon Young gives you all the know-how you need to transform affordable foods and common herbs into meals that improve your overall health.


Instead of looking to your medicine cabinet, banish headaches and congestion with Daikon Radish Kimchi or soothe an upset stomach by munching on Soothing Ginger Thins. Colds don't stand a chance against the antiviral and antimicrobial properties of thyme found in Slow-Cooker French Onion Soup with Thyme. Your skin and cognition get a boost from the asparagus in Lemony Pan-Roasted Asparagus. Improve your heart health and circulation thanks to the antioxidant-rich berries found in Mixed Summer Berry Galette.


With recipes to bolster every aspect of your health and wellness, this remarkable collection makes it easy for you to whip up delicious meals that heal your body and put you on the path to better health.
Praise For The Herbalist's Healing Kitchen: Use the Power of Food to Cook Your Way to Better Health…
"Learn how flavor can be your guide to choosing foods and herbs that will titillate your taste buds and support your body's innate healing abilities. Enjoy Devon Young's beautiful and original approach to some familiar and not-so-familiar recipes using health-enhancing herbs and food!"
—Marlene Adelmann, founder of the Herbal Academy


"Devon Young takes the mantra 'food is medicine' to new heights with easy recipes made from readily accessible ingredients."
—Kris Bordessa, author and founder of Attainable Sustainable


"Set aside the fad diets, over-marketed supplements and the idea that health can only come from a bottle, and sit down for a chat at Devon's table, where she will remind you of ancestral food wisdom while providing easy recipes perfect for modern living!"
—Miss Wondersmith, TheWondersmith.com


"The Herbalist's Healing Kitchen has some amazing recipes that are beautiful, healthy and family friendly . . . perfect for anyone who wants to include more herbs in their diet but doesn't know where to start!"
—Colleen Codekas, author of Healing Herbal Infusions, founder of Grow Cook Forage Ferment

"Not your usual herbal remedy book, this is a treasure of inspiration for bringing healing foods to the table. I expect it to become splattered with sauces and imprinted with buttery fingers as all well-loved cookbooks are."
—Chris Dalziel, founder of Joybilee Farm

"Devon makes it easy to incorporate medicinal herbs into everyday life with her delightful recipes. Using herbs can feel daunting and complicated, but her straightforward approach is accessible to everyone."
—Stacy Karen, founder of No Fuss Natural

"If you believe as I do that food is the key to our health, the pages of this book are delicious confirmation. I am looking forward to cooking recipes from this innovative new book!"
—Janet Garman, founder of Timber Creek Farms

"Devon has a knack for inspiring us to think outside the box and use healing herbs in our everyday cooking. The recipes are sure to inspire creativity in the seasoned herbalist and give confidence to those just beginning their herbal journey."
—Angi Schneider, founder of SchneiderPeeps

"Devon Young's wealth of knowledge is evident in the thoughtful combination of ingredients, and the recipes are completely drool-worthy. This book is a very digestible way to include herbalism in daily life, and a tasty one!"
—Stephanie Rose, award-winning author and founder of Garden Therapy®

"This book takes the mystery out of an herbalist's kitchen. What a tasty way to make food be your medicine."
—Connie Meyer, founder of Urban Overalls

"Devon has a style that makes things attainable for all home herbalists and cooks, from beginners to more advanced. This book will be a go-to in our home for years to come."
—Emily Maze, founder of This Crazy Maze

"The Herbalist's Healing Kitchen is the perfect introduction for those interested in expanding their knowledge of wellness. It's simple yet thoughtful, practical with just a touch of whimsy, and beautifully and lovingly written. Devon Young is a woman who knows her material, and her desire to inspire others is evident in every page."
—Rhea Hoeflok, founder of Hedgerow Cottage

"Another must-have book by Devon Young. Who knew some of the things I enjoy weekly have the power to help my body thrive! Can't wait to give these mealtime herbal recipes a go!"
—Hannah "Suzie" Nicole, founder of Muddy Oak Hen House

"As a chef who loves to add herbs and spices to food, I find Devon Young's newest book to be an incredible inspiration and resource. I will be incorporating as many of these beautifully thoughtful recipes into my routine as possible."
—Courtney Queen, founder of Butter For All

"More than a guide to creating delicious, satisfying food as medicine, this book imparts the tools and knowledge of how to heal through listening to the senses. Devon Young weaves together plant medicine and food into the perfect alchemy for everyday healing."
—Alyson Morgan, founder of Maia Terra

"The Herbalist's Healing Kitchen does a wonderful job of sharing Devon Young's wealth of herbal wisdom with everyday cooks seeking to support better health with thoughtfully prepared, nourishing food. The wide range of recipes will keep the health-conscious cook inspired!"
—Susannah Shmurak, founder of Healthy Green Savvy

"The Herbalist's Healing Kitchen is one of the most comprehensive and thorough herbal recipe books that you will discover."
—Tessa Meiner, founder of Free Spirit Folk

"This is a great addition to the library of anyone who loves to prepare delicious food but also realizes the importance of keeping themselves and their families healthy."
—Jereme Zimmerman, author of Brew Beer Like a Yeti and Make Mead Like a Viking

"This is the perfect healing foods cookbook for those just getting started on their mindful health journey."
—Tessa Zundel, author of The Do It Yourself Homestead, founder of The Homestead Lady

"This book will help you to understand the roots of your problems and find solutions in real food recipes."
—Vladka Merva, founder of Simply Beyond Herbs
Page Street Publishing, 9781624149979, 192pp.
Publication Date: October 29, 2019
About the Author
Devon Young is the author of The Backyard Herbal Apothecary and the founder of the holistic lifestyle blog Nitty Gritty Life. She has a degree in Complementary and Alternative Medicine from the American College of Healthcare Sciences, and she lives in the Willamette Valley of Oregon.