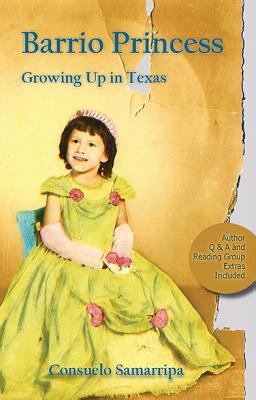 Barrio Princess (Hardcover)
Growing Up in Texas
Parkhurst Brothers Publishers Inc, 9781624910296, 160pp.
Publication Date: April 15, 2014
Other Editions of This Title:
Paperback (4/15/2014)
* Individual store prices may vary.
Description
"Made in Mexico, born in America," Barrio Princess shares heartwarming family stories, cultural tradition stories, learning English by total immersion, socialization as a minority, education, stories of her mother as a single parent, and women's stories from a minority point of view.
About the Author
Consuelo Samarripa was born in San Antonio, Texas, among the first baby-boomers, was raised by Mexican immigrants and spoke only Spanish before attending public school in Texas. Schooling was a challenge for her, learning English as a second language, but by high school she joined a writer s group (where she met the future Elizabeth Berg) striving to express herself. Education was a high priority for Ms. Samarripa, and she earned her BS degree when a young mother. After entering the world of public speaking through Toastmasters International, where she received several honors at different levels, she became a professional storyteller of her cultural traditions, which is her full-time occupation today. Samarripa is a board member of the Tejas (Texas) Storytelling Association."
Praise For Barrio Princess: Growing Up in Texas…
"Rich in family and heritage, Consuelo Samarripa's stories may just help you discover more of yourself."
— Elizabeth Ellis, NSN Circle of Excellence Storyteller and NSN Lifetime Achievement Award Recipient
"Filled with the quiet humor that has marked her stories from early days in Austin and the same true-to-life voice of a little girl growing up in South San Antonio, these stories express Samarripa's unyielding love for Texas and her Mexican-American heritage. Here the big issues of family, money, race, and politics are perfectly shaded by the shawl of a powerful voice that whispers."
— Tim Tingle, Choctaw storyteller and author of award-winning books from his culture
Made in Mexico, but born in the USA, Consuelo Samarripa recounted her childhood experiences in her recently published memoir, "Barrio Princess — Growing Up in Texas."

The author and bilingual storyteller compiled stories as a youth growing up in San Antonio and Killeen during the 1950s and 1960s. "It was a simple time," she wrote. "We were innocent and inexperienced just like a new box of freshly dressed crayons."

Everything about Samarripa, 67, from her gentle eyes to her soothing voice still, reflects that innocence. "These stories are told through the eyes of the child I was then, and there was a lot of community with my grandmother's house as the hub because my family lived within a few blocks," she said. Always a creative and active child, Samarripa suddenly found herself one of the few Hispanics in school and she didn't speak English.

 . . . Now, Samarripa travels nationwide as an author, bilingual storyteller and abruelita (Spanish for grandmother) of eight grandchildren, entertaining and enlightening audiences with her unique stories.

"I gave a piece of my life away when I wrote the book, but that piece is there for my children and grandchildren," she said.
 

— Valerie L. Valdez, Harker Heights Herald
or
Not Currently Available for Direct Purchase