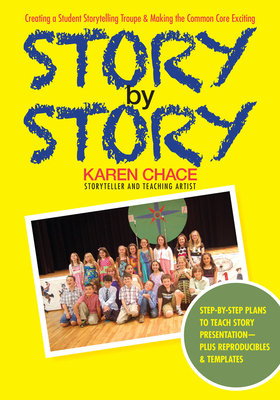 Story By Story (Paperback)
Creating a School Storytelling Troupe & Making the Common Core Exciting
Parkhurst Brothers Publishers Inc, 9781624910302, 102pp.
Publication Date: October 1, 2014
* Individual store prices may vary.
Description

Karen Chace's book, Story by Story, Building a Storytelling Troupe is a must have for anyone even slightly interested in starting a storytelling group with students.  I know I am guilty of sometimes skipping over sections, but every word that Karen writes is important and useful distilled (and therefore potent) information.  Ms. Chace not only tells you what to do to run a successful troupe, but also WHY you need to do it.  This is, to me, very important.  Sometimes one is tempted to skip things, but this book explains how important the steps are. Everything from how many hours Karen thought it would take, to ACTUAL hours, where the funding comes from, how and why to lay foundations and expectations (including 'no teasing policies' and group dynamics), right the way through presentation skills to advertising the event and getting bums on seats (emphasis important)!
 
Over the years Karen has and continues to come up with new and inventive ways of teaching the skills of storytelling, and a great many of these exercises and activities are included in the book.  When it comes to research and materials as well as technique, Karen adds new meaning to "thorough".  There are links to websites for stories, for grants, for microphone techniques, and how storytelling connects to the school curriculum and more.  And if you prefer to read books, there is an extensive bibliography, too.
 
Basically, I believe if you want to succeed in building a storytelling troupe or group, all you need is Karen Chace's book, Story by Story, Building a Storytelling Troupe and to do everything Karen suggests.  I am sure it would be very hard to fail if you follow her words of wisdom between the covers of her goldmine of a book.
Simon Brooks, storyteller, and educator
About the Author
Karen grew up among a large, extended Irish family in Massachusetts, surrounded by stories and storytellers all of her life. She has been sharing stories professionally with a wide range of audiences since 2000 and is the founder and director of a student storytelling club in her hometown, producing their Storytelling Festival each year since 2002. She is also the author ofStory by Story–Building a School Storytelling Club.
Karen is also a contributing author to the National Storytelling Network's recent publications, A Beginner's Guide to Storytelling and Telling Stories to Children. She is a member of the NSN Press Committee and writes a regular column, "Stor e Telling," for Storytelling Magazine. Known for her Internet researching skills, Karen never heard a story she couldn't find!
Karen presents her enthusiastic, interactive and illuminating workshops and residences at conferences, libraries and schools around the country. Combining her passion for literacy and storytelling in delightful programs with stories from around the world, Karen mesmerizes audiences everywhere. She strongly believes that storytelling nurtures children, offering them opportunities to succeed in ways they never imagined!
Karen is the 2011 Recipient of the National Storytelling Network Oracle Award for Service and Leaderhhip for the Northwest Region.
Karen is also the 2009 Recipient of the Brother Blue - Ruth Hill Award from LANES (League for the Advancement of New England Storytelling). Given in recognition of "the extraordinary commitment and efforts to promote a broader understanding of the art of storytelling and the support of storytellers in the development of their art. It serves, as Brother Blue, has said, "To honor those who give their lives to storytelling to change the world."
Praise For Story By Story: Creating a School Storytelling Troupe & Making the Common Core Exciting…
"There's no doubt about it, stories are powerful. Teachers,
librarians, storytellers, church education leaders, and others
looking for a way to make learning an exciti ng adventure while
enhancing children's self-esteem will find a treasure trove of
information, resources, and inspiration in Karen Chace's Story by
Story."
— Kristine Morris for Foreword Reviews, November, 2014
"While storytelling isn't a subject on which students are tested, Chace said the art complements Core Curriculum standards in language arts, reading and oral presentation, but more importantly, it is a tool to access creativity and imagination."
 
According to the National Council of Teachers of English:
·      Students who search their memories for details about an event as they are telling it orally will later find those details easier to capture in writing.
·      Student listeners encounter both familiar and new language patterns through story.
·      They learn new words or new context for already familiar words.
·      Those who regularly hear stories, subconsciously acquire familiarity with narrative patterns.
·      Learners who regularly tell stories become aware of how an audience affects a telling, and they carry that awareness into their writing.
 
Of course, getting comfortable with public speaking benefits all kids down the line.  "The students who take the stage are confronting one of the biggest fears for adults: oral presentation. They'll carry this skill with them into adulthood … college, job interviews," Chace said.
 
Chace has witnessed "tiny miracles" and "amazing student successes and transformations" through storytelling. Perhaps "the shy child who rarely spoke in class who is now a peer leader (or) the autistic student takes stage on festival night and receives a thunderous ovation. "Each child is unique and (takes) away what they need most — it might be newfound confidence, belief in their individual gifts as a performer, enhanced reading skills or cultural knowledge." 

— Lauren Daley for SouthCoast TODAY
or
Not Currently Available for Direct Purchase