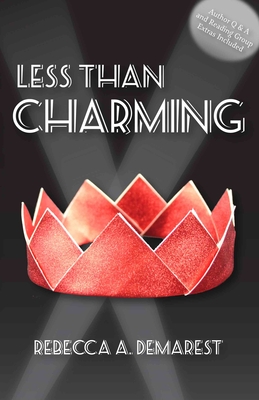 Less Than Charming (Hardcover)
A Novel
Parkhurst Brothers Publishers Inc, 9781624910708, 288pp.
Publication Date: May 16, 2016
* Individual store prices may vary.
Description
A second novel, LESS THAN CHARMING tells the story of a world beyond a veil in which all of the characters writers have ever created are alive and living in their own society. As writers in the other—human world—constantly write new characters into existence, those characters emerge into this mirror world. A hierarchy evolves as every retelling of existing characters is layered onto the original, adding to and changing their personality, knowledge base, and sometimes their emotional stability. Prince Charming conspires to rule the society of characters, which includes every protagonist and foil you've ever found in a story or a book, and the prince is not as charming as you first imagine.
One character sands in the Prince's way—Princess Sophia from Grimm's lesser known "12 Dancing Princesses." She's stable—mostly—but Prince Charming is most definitely not. The good Storyteller and the First Character have tasked Sophia with stopping the Prince from destroying their world, and, by extension, ours. 
About the Author
Rebecca A. Demarest is an author, award-winning book designer, and technical illustrator living in Seattle, WA with her husband, Jason, and their dog-like cat named Cat. When she isn't writing or making books and flowcharts pretty, Rebecca can be found crafting, working on her indoor forest, climbing, hiking, and generally loving being back in her native Pacific Northwest. Rebecca has her B.A. in Psychology and English from Willamette University and her M.F.A. in writing from Emerson College. Demarest has authored short fiction, much of which has been published in literary magazines and e-zines. About her first novel, Undeliverable, Kirkus Reviews said, "Engaging, inventive and full of feeling, Demarest's debut engagingly addresses what we lose when we lose someone we love." To learn more about the author, and Less Than Charming, visit https: //www.indiegogo.com/projects/less-than-charming#/?
Praise For Less Than Charming: A Novel…
"Sharp, sassy, full of invention and energy, and far more than charming—intoxicating."
— Gregory Maguire, author of Wicked and Egg & Spoon
"Rebecca Demarest's Less Than Charming is a magical mash-up: part fairy tale, part mystery, part love story, the novel takes us on a dynamic ride with surprising turns, lively wit, and unforgettable characters. Above all, it's a celebration of the art and tradition of storytelling, a winning tribute to those old tales that spark the imagination every time we tell them anew."
— Scott Nadelson, author of Between You and Me & Saving Stanley
"Less Than Charming is a totally original take on the world of storytelling. The characters are both fresh and familiar, and their story is compelling. This was a fun and unpredictable adventure in a creatively imagined world. I can't wait to see what happens to Sophie and Jack in their next adventure."
— Jenny Hannibal, librarian and avid reader
or
Not Currently Available for Direct Purchase