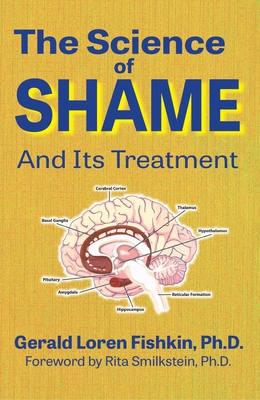 The Science of Shame and Its Treatment (Paperback)
Parkhurst Brothers Publishers Inc, 9781624910746, 176pp.
Publication Date: March 1, 2016
* Individual store prices may vary.
Description
Shame is the ghost in the machine of the human mind.  It can implant itself in the psyche before the first word is spoken, even before the first thought has formed.  In his groundbreaking book, The Science of Shame and Its Treatment, psychotherapist and author Gerald Loren Fishkin, Ph.D., addresses the genesis of shame and self-talk from an empirical analysis of their core elements, its insidious ingress into conscious thought, and the havoc it inflicts on a person's self-worth and behavior.

Through his empirical analysis and understanding of toxic shame, Dr. Fishkin has identified multiple effective clinical approaches for its treatment and addressing shame-based behaviors.  He clearly outlines why contemporary treatment approaches, including cognitive behavioral therapy, do not treat core shame wounds and most often cause individuals to terminate the therapeutic process prematurely.
This book is a must-read for clinicians, addiction specialists, teachers, students of human behavior, counselors, social workers, patients in treatment.
About the Author
With fine academic credentials and an outgoing personality, Dr. Fishkin is an articulate professional and straight talker who believes in sharing his experiences and insights about human behavior without the need for cliché, "psychobabble," or statistics to reinforce his words. His clarity of thought and speech are immediately related to by any audience, as are his amusing and illuminating anecdotes collected from years of professional experience.
            Gerald Loren Fishkin, M.S., Ph.D., has been focused on helping people for most of his life. He has been a practicing psychotherapist and author in southern California since 1970. For more about Dr. Gerald Loren Fishkin, M.S., Ph.D., visit 
http://drgeraldfishkin.com
Praise For The Science of Shame and Its Treatment…
"The Science of Shame and Its Treatment is a comprehensive and practical resource to help all of us understand shame better as well as treat shame more effectively. His case studies reveal first-hand the impact of shame and the role shame plays in overall mental health and recovery. Anyone in a helping profession will benefit from employing this tool in their arsenal to help bring about healing and hope." 
— Sean Walsh, Chief Executive Officer, The Meadows Treatment Centers
"This is an intriguing and thought-provoking book about the little voice in our heads that whispers (or shouts) that we are just not good enough ... the voice of shame. Shame, according to the author, is different from guilt, in that guilt is a feeling of wrongness about something one has done whereas shame feels that way about who one intrinsically is. Shame begins in infancy, even pre-verbally, when some trauma or abuse from a trusted caregiver leads a child to feel that they are not good enough to have the love and care they require but lack. However, compassion-based therapy, which helps explore patients' childhood trauma, can bring healing and wholeness.
There is much to ponder in this book. Readers will appreciate the knowledgeable but accessible writing style that avoids jargon while staying firmly rooted in good science."
— Gretchen Wagner
"The Science of Shame and Its Treatment is a well-researched book that has many practical applications for clinicians who are working with patients who have experienced trauma, abuse, and neglect. It clearly distinguishes shame from guilt (a key concept), while it focuses on the etiology and treatment of shame…Use this book as a guide in working with patients who have been burdened with incapacitating shame for most of their lives." 
— Dan S. Fogel, LMSW, Clinical Social Worker, Grand Rapids, Michigan
"Dr. Gerald Fishkin's comprehensive and compassionate resource The Science of Shameand Its Treatment offers both people in recovery and clinicians, hope that by addressing underlying shame we can create a life filled with harmony and peace." 
— Sherry Gaba, LCSW, author of the award winning book, The Law of Sobriety: Attracting Positive Energy
"The Science of Shame and Its Treatment is invaluable for anyone in a therapeutic process. Dr. Fishkin's in-depth discussion on shame begins by first defining and clarifying the difference between shame and guilt. That alone is worth the price of the book!" 
— A.D. Burks author of Sex & Surrender: An Addict's Journey
"Shame influences our lives from underneath our everyday awareness, keeping us cut off from the healing regions of our own hearts. One of the most powerful things we can do for ourselves is heal our shame. Dr. Fishkin's well-written and comprehensive book not only provides the science behind what causes our shame, but he also provides real life stories that help us relate to our shame through the healing power of our own awareness and self-compassion."  
— Mary O'Malley, author of What's In the Way Is the Way
"The Science of Shame and Its Treatment is a detailed description of the nature of shame and brings clarity to this much maligned emotion. It is a must read for therapists who are helping their clients move from believing they are worthless to knowing they have inherent worth." 
— Pia Mellody Author & Senior Therapist at The Meadows Treatment Center
"Understanding that shame is not equivalent with guilt, narcissism, or genuine criticism is vital in overcoming the stigma that is negative self-talk, in becoming and staying healthy. Dr. Fishkin not only presents readers with the identification and analysis of a problem, he offers therapeutic solutions. The case studies included in the book give us a sense of the kind of action that needs to be taken. These actions are preventative, pragmatic, and sustainable to maintain lasting healing and foster health. It is no easy task to isolate, identify, or express toxic shame. It is always easier to deal with symptoms rather than the core issue, and this is what makes The Science of Shame and Its Treatment not just compelling but an arresting work. 
 
Whether or not you are dealing with trauma, emotional distress, or abusive behavior, The Science of Shame and Its Treatment is vital to understanding not just other selves but one's self. Dr. Fishkin has made a foray into a fresh field of study, one that could aid countless people in a myriad of ways." 
 
— Daniel Casey, Professor of English and author