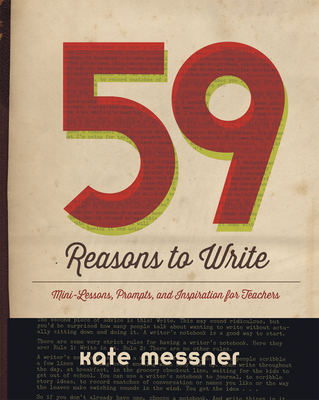 59 Reasons to Write
Mini-Lessons, Prompts, and Inspiration for Teachers
Paperback

* Individual store prices may vary.
Description
In order to teach writing effectively, teachers must be writers themselves. They must experience the same uncertainty of starting a new draft and then struggling to revise. As they learn to move past the fear of failure, they discover the nervous rush and exhilaration of sharing work with an audience, just as their students do. Only by engaging in the real work of writing can teachers become part of the writing community they dream of creating for their students.
 
Kate Messner's new book, 59 Reasons to Write, shows teachers and librarians who teach writing how to be stronger role models for their students.
 
"Writing for my students provided me with appropriate mentor texts to share," she writes. "Writing with my students made me a mentor and a far better teacher."
 
59 Reasons to Write grew out of Messner's popular online summer writing camp, Teachers Write. Throughout the book she offers mini-lessons, writing prompts, and bursts of inspiration designed to get you writing every day, whether on your own or as part of a group. Dozens of guest authors also share their writing processes and secrets, from brainstorming ideas and organizing research to developing characters and getting unstuck from writer's block.
 
59 Reasons to Write is for anyone who has always wanted to write but never managed to get into the habit. Daily warm-ups will help you flex your writing muscles and energize your teaching. As Messner shares, "One of the greatest gifts of writing is the way it nudges us to look more closely not only at the world but also at ourselves." 

Stenhouse Publishers, 9781625310033, 216pp.
Publication Date: January 9, 2015
About the Author
Kate Messner is the author of Stenhouse professional titles Real Revision (2010) and 59 Reasons to Write (2015) as well as more than two dozen award-winning children's books. These include picture book favorites Over and Under the Snow, Up in the Garden and Down in the Dirt, Over and Under the Pond, How to Read a Story, and Tree of Wonder from Chronicle, the popular Ranger in Time series and Silver Jaguar Society Mysteries from Scholastic, and middle-grade novels like The Brilliant Fall of Gianna Z, Eye of the Storm, Wake Up Missing, All The Answers, and The Seventh Wish from Bloomsbury.
Kate taught middle school English for fifteen years and earned National Board Certification in Early Adolescent English Language Arts. She left the classroom in 2012 to be a full-time writer, speaker, and educational consultant. Kate was a featured presenter at the 2012 TED Conference and is a frequent keynote speaker for state and national library and teaching conferences. She offers full-day staff development sessions in schools as well as author visits and writing workshops for young readers and writers.
When she's not writing or teaching, Kate enjoys spending time outdoors, hiking the Adirondack High Peaks and swimming in Lake Champlain, where she lives with her family.
or
Not Currently Available for Direct Purchase